A Community Movie Could Be In The Works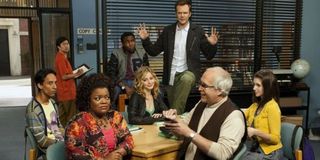 #Sixseasonsandamovie. That's the rallying cry for Community fans who have stood by the idiosyncratic show for five low-rated seasons. The phrase stems from a joke made by the character Abed (Danny Pudi) in regards to the crew's hopes for then-current NBC series The Cape. But as Community has soldiered on, and all of NBC's replacements for the show have logged even smaller ratings, it has become clear that creator Dan Harmon's irreverent comedy is here for the long haul. And ultimately, that long haul involves a movie.
TV Guide reports that Community, which has survived on NBC's weakened schedule like a cockroach during a nuclear blast, could be in line for a renewal for its sixth season. But more importantly, they also claim that plans are being set in motion to bring the characters to the big screen. Evidence of further life in Community comes from the fact that season five is set to end on a cliffhanger. While the Community ratings remain sub-Telemundo, the show is partly owned by Universal, making it profitable for NBC moreso than a show from a different studio.
As for who would direct the film, TV Guide posits that a couple of names have been thrown around, but they're likely wishful thinking. One is Justin Lin, who famously helmed the legendary first-season paintball epic that earned the show a much higher profile, though he seems busy now that he's jumped onboard the Jason Bourne train. Another couple of names are Joe and Anthony Russo, who helmed several Community episodes, but have just hit the big time as the men behind Captain America: The Winter Soldier. Chances of a Community movie happening seem slim, particularly with these directors. But hey, it happened for Veronica Mars.
Of course, what would this movie even be about? Are the characters actually spending six plus years at a community college? The show has always earned praise for it's cuckoo plotting and elaborate stunt storytelling, bending the line between reality and fantasy similarly to The Simpsons. But ultimately, it's hard to really nail down what Community is: couldn't we revisit this cast in just about any setting, give Dan Harmon the keys, and just about call it Community? They could be deep sea divers. They could be renegade cops. They could be Kickpuncher extras. While the sky's the limit for possibilities, it also makes this project so malleable that a movie could never nail down the appeal of the property that the show has revealed in countless half hour episodes. A movie just seems so limited compared to the wide canvas that is a potential thirteen episode season six. Community is a funny show. But other than finishing the punchline to a years-old joke, is there anything that a Community movie could possibly bring to the table?
Also, bring back The Cape, NBC. That show was hilarious.
Your Daily Blend of Entertainment News
Thank you for signing up to CinemaBlend. You will receive a verification email shortly.
There was a problem. Please refresh the page and try again.