Snoop Dogg Is Developing A Drama Series For HBO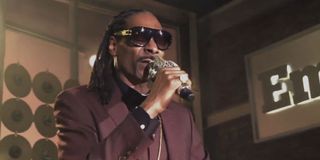 After appearing on the season finale of the Fox hit series, Empire, none other than Snoop Dogg has announced that he's on the way to building his own TV contender. The rapper made an official announcement on Friday confirming that he will executive produce a drama series for HBO.
Snoop Dogg was giving a keynote speech at SXSW festival when he announced that he would be producing a drama about 1980s Los Angeles. Variety reports the director on-board the project is Allen Hughes, one of the brothers behind The Book of Eli. The drama is written by Rodney Barnes who has penned a number of series including, My Wife and Kids, Everybody Hates Chris and most recently, The Boondocks. The latter which has gained serious critical reception as one of the top animated series for adults.
The new show will center around a seemingly normal family living in inner-city L.A. as life gets turned upside down due to the Reagan-era social policies in the area. Snoop Dogg, who grew up in Long Beach during that era experienced some of the chaos first hand. And according to The Daily Beast, in his keynote speech Snoop touched upon his own thoughts of Reaganomics explaining that the '70s were beautiful, and people knew how to have fun and communicate. But then it all shifted:
It is this era that Snoop Dogg wants to explore in his upcoming project. And with a writer on board like Rodney Barnes, it will surely be filled with candid social commentary (whose characters often harshly critique Reagan on Cartoon Network's The Boondocks). The show will certainly push the limits too with a network like HBO behind it. Snoop made sure to comment on the appropriate pairing.
It's also no surprise to hear such high praise for HBO from the hip-hop legend, since he is quite vocal about his own obsessions with a few of their programs.
The 43-year-old rapper did not confirm a title on the upcoming project and the show is still in early development. Thus far, we know is that Snoop is attached as a producer, and no word on whether or not he will have on on-screen role in the series.
Your Daily Blend of Entertainment News
Thank you for signing up to CinemaBlend. You will receive a verification email shortly.
There was a problem. Please refresh the page and try again.