Watch Anna Kendrick In Hysterical Indiana Jones Spoof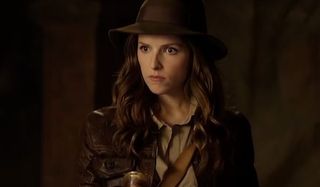 With this past weekend's box-office beating laid down by Pitch Perfect 2, it may not be so implausible to see Anna Kendrick crossing over into other lucrative film genres. In fact, this new charity-inspired parody for the upcoming Red Nose Day TV special takes the upcoming, possibly trend-setting gender-swap treatment of Ghostbusters and gives us a glimpse of Kendrick's take on a key scene from the Indiana Jones films.
Satirically referring to itself as a "reboot," this take on the Grail Room scene from 1989's Indiana Jones and the Last Crusade was put together to promote NBC's Red Nose Day special on May 21. Sure, it might be missing the suspense of nabbing a magical MacGuffin cure for a gut-shot father in Sean Connery's Henry Jones or even a sexy secret Nazi lover aiding in the Grail selection, but it's clear that we're at that integral moment in which the ancient Templar Knight asks the agitated archeologist to "choose wisely" amongst his sinister silverware, with deadly consequences for the wrong choice. As we can see, Kendrick's take on Indy isn't having any time for the Knight's dilatory douchebaggery or even the slightest semblance of sexism.
Of course, anyone who's seen "Weird Al" Yankovic's cult classic, UHF will know that parodying Indiana Jones may not be the most original way to drum up some satirical laughs. However, the clip starts off with a solid contextual declaration regarding next year's all-female Ghostbusters reboot film. Featuring some of best female comic talent out there like Melissa McCarthy and Kristen Wiig, its possible success could very well be a watershed moment that makes Hollywood executives declare gender-swapped reboots the new black. (Rather than orange.) As a result, there seems to be a level of self-awareness in the way the parody unfolds, brandishing Anna Kendrick's no-nonsense cleverness to the Indiana Jones character as she just grabs the real Grail, seemingly with zero f**ks given, before taking the others, just for good measure.
Certainly, with the amazing $70.3 million opening domestic feat that her film, Pitch Perfect 2 just accomplished this past weekend, we could be seeing Kendrick move up in the big-budget popcorn chain. The sequel not only bested the $65 million made by its 2012 predecessor, but also topping the $44.4 million weekend of the heralded, big-budget bonanza of a franchise return, Mad Max: Fury Road. Thus, the reality of Anna Kendrick being one of the female stars who could eventually find herself in a very real gender-swapped reboot of some major property is not so inconceivably laughable as this parody's premise suggests.
Possible satire about the fickleness of Hollywood aside, the clip is meant to promote the charity-driven special, Red Nose Day, which is the inaugural U.S. version of a fundraising drive started in the U.K. in 1985 designed to help disadvantaged children around the world with a little levity. Anna Kendrick will be just one celebrity amongst an obscene array of comedic talent and philanthropic and notables on hand for the primetime broadcast that airs on NBC on Thursday, May 21, 8-11 p.m. EST.
Your Daily Blend of Entertainment News