The Conjuring House's Real-Life Residents Getting Tormented By The Movie's Fans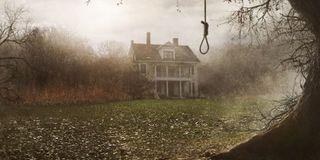 Based on the nightmarish experiences one family in Rhode Island had in their haunted home The Conjuring has proved a dream for Warner Bros. The horror-thriller inspired by the case files of paranormal investigators Ed and Lorraine Warren won overwhelming praise from critics (a rarity for the horror genre), and scored the #1 spot at the box office in its opening weekend with an astounding $41 million. But the film's intense popularity—which has already secured a sequel—has had unexpected repercussions for current residents of the house at the film's center.
The Wrap reports Rhode Islander Norma Sutcliffe, who resides in the house that was once believed to be haunted when the Perron family lived there, has been experiencing troublesome disruptions since the movies opened, all caused by unwelcomed visitors in the night. "We haven't slept in days," she told the local paper. "This is affecting us physically and emotionally and I don't know long we can take it."
But it's not ghosts that have been plaguing the sixty-something woman and her husband who are both in poor health, just overzealous fans with no seeming respect for the living. Sutcliffe says people have been snooping about her yard with flashlights in the middle of the night, forcing her to go outside and scream at them to get off her property. And even though her phone number is unlisted, she's been receiving strange calls. But that's not the worst of it. Sutcliffe laments:
As The Conjuring focuses on a family of seven who was haunted by malicious spirits while they lived there, Sutcliffe was asked if she's had any brushes with ghosts. She says she's seen no sign of anything unusual in the 25 years she's lived there. "I just laughed at the whole thing," she said of the movie itself. "I thought it was so ironically ridiculous. I thought it was an insult to the Perrons."
Notably, Sutcliffe was quick to turn down Warner Bros. request that she join in on the film's promotion, appearing on Nightline. She doesn't want "want anything to do with this movie" and wishes Warner Bros. would step in to help now that they've inadvertently made her home a haunt for would-be ghost hunters. "All we get is the consequences," Sutcliffe sighed. "It is not our story but we are the ones who are suffering." She feels the studio's publicity is to blame, saying images they released of her home have sparked all these invasions of her privacy. Still, she is not asking for money for herself from WB. Instead, she'd like the studio to donate to the local police force who she credits with doing their best to keep gawkers away.
Warner Bros. hasn't yet commented on this matter.
Staff writer at CinemaBlend.
Your Daily Blend of Entertainment News
Thank you for signing up to CinemaBlend. You will receive a verification email shortly.
There was a problem. Please refresh the page and try again.