The Cool Look Hulk Will Be Ragna-Rocking In Thor 3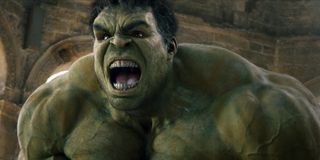 The Marvel Cinematic Universe's Hulk was last seeng flying off to parts unknown near the end of Avengers: Age of Ultron, but next year, he's finally returning for Thor: Ragnarok. Reuniting with his fellow Earth's Mightiest Hero, the movie will see Bruce Banner and his monstrous counterpart traveling with the God of Thunder across the Nine Realms to battle Hela and other villains. While the exact details of Hulk's involvement haven't been revealed yet, now there's word that during the adventure, he may wear armor looking like what he donned from his Planet Hulk days in the comics.
According to the folks at JoBlo, Thor: Ragnarok will have elements of Planet Hulk mixed in, and this will involve Hulk wearing the same one-shoulder armor from the original story (seen below). Apparently there is a planet where gladiatorial games are run by Jeff Goldblum's Grandmaster, and while it wasn't revealed how the God of Thunder ends up on the planet, he'll be forced to participate in these deadly battles. We're guessing that Hulk will eventually rush in to save him, but before that, he'll don the armor for some extra protection. The Planet Hulk storyline was originally published from 2006 to 2007, and followed Hulk conquering the planet Sakaar after he was banished from Earth by the Marvel Illuminati group for being too dangerous. It subsequently led to Hulk coming back to our world for vengeance in World War Hulk.
In the years following The Incredible Hulk's release, many fans believed that Planet Hulk would make a worthy sequel, and there were various rumors before Avengers: Age of Ultron was released that the movie would send him out into space to get involved in similar events for a Phase Three follow-up. However, given the unusual situation between Marvel and Universal, the Green Goliath has been relegated to appearing only in Avengers movies or adventures led by other heroes. Since there isn't another solo Hulk movie on the way, Thor: Ragnarok would the most fitting way to adapt Planet Hulk for the big screen.
It looks like the Hulk will experience some significant developments in Thor: Ragnarok. Aside from this armor rumor, it's been hinted that his intelligence will increase, making him more than just a rage beast. Mark Ruffalo has also said that this movie and Avengers: Infinity War form to make a good "standalone Hulk story." As for how Grandmaster's gladiatorial world might be thrown into the mix, it was rumored a few months ago that Hela would destroy Thor's hammer, Mjolnir, and banish him from Asgard. Perhaps this planet is where the Odinson sent, and without his full power (or worse, any of his abilities), he'll struggle to stay alive, leaving it the Hulk's responsibility to get him out of there.
Hulk will jump back into action in Thor: Ragnarok on November 3, 2017.
Connoisseur of Marvel, DC, Star Wars, John Wick, MonsterVerse and Doctor Who lore. He's aware he looks like Harry Potter and Clark Kent.
Your Daily Blend of Entertainment News
Thank you for signing up to CinemaBlend. You will receive a verification email shortly.
There was a problem. Please refresh the page and try again.