Could Christopher Nolan Make A James Bond Movie?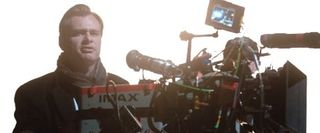 As much as you may not want to admit it, Christopher Nolan is stepping away from the Batman series after The Dark Knight Rises, leaving Warner Bros. with plans to reboot it without him and Nolan with a schedule that's very, very clear for the first time in nearly a decade. He has no set plans for what he'd like to do next, though he's talked about a Howard Hughes biopic from time to time, and now he's adding one more potential famous character to the wish list: Bond.
In the same massive Empire magazine all about The Dark Knight Rises-- via The Playlist-- he says the Hughes project is dead for now, but that he's actually talked to the producers of the James Bond franchise about potentially taking on the famous secret agent. He's careful to warn, though, that "It would have to be the right situation and the right time in their cycle of things." Some people, including The Playlist, are suggesting that means he'd only want the job if he could bring on a Bond other than Daniel Craig, but I think it could just as easily be referring to the cycle of films, and that his schedule would have to match up with their hunt for a new director after Skyfall or maybe even the Bond film after that.
So, moral of the story is don't get your hopes up too much-- Nolan, true to form, is keeping most of the details to himself, and probably wants to get The Dark Knight Rises out there before he lets you guys force him to commit to anything. Can't you just look forward to his next movie and be happy with it?? Jeez!
Staff Writer at CinemaBlend
Your Daily Blend of Entertainment News
Thank you for signing up to CinemaBlend. You will receive a verification email shortly.
There was a problem. Please refresh the page and try again.