Could The Lord Of The Rings Be Re-Released In 3D? Peter Jackson Seems To Think So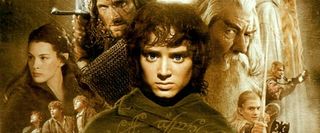 This weekend's The Hobbit: An Unexpected Journey will be the first opportunity most have to see the world of Middle Earth in 3D-- and depending on which screening you choose, you could see it in the ultra-sharp, fairly controversial 48 frames per second. But anyone watching the way Hollywood has worked over the last year or two could probably guess that, at some point, we'll be seeing the original Lord of the Rings trilogy in 3D as well. After all, Peter Jackson and James Cameron are pals, and this spring's 3D re-release of Titanic was a huge financial success. Wouldn't Jackson want to follow suit?
Not so fast, says Jackson. At a press conference last week for The Hobbit, Jackson answered a question about up-converting Lord of the Rings for 3D with a very frank response: not yet, but probably in the future. Here are the actual details of what he said:
Jackson's right about the difference between the success of Titanic and The Phantom Menace in 3D. Both were released earlier this year, but while Titanic added another $57 million to its already record-setting gross, The Phantom Menace made just $43 million. Surely Jackson also knows that there's a huge difference between the cultural legacies of both movies, and that even hardcore Star Wars likely avoided suffering through The Phantom Menace again-- but the same wouldn't happen for a 3D re-release of Lord of the Rings. The "things have to move on" quote is key here-- Jackson knows it's dicey at the moment, but also that time marches on, and he still expects 3D to be strong for years to come.
In the end Jackson seems like a realist, both about the future of the 48 fps technology he's championed-- we'll have more from him on that later-- and what a studio might decide to do with his films. Even though nothing's being discussed right now, he seems well aware it probably will be in the future. Nothing is set in stone, but if I were to place a bet on whether Lord of the Rings will be re-released in 3D, I'd predict yes-- and more importantly, I think Jackson would too.
Staff Writer at CinemaBlend
Your Daily Blend of Entertainment News
Thank you for signing up to CinemaBlend. You will receive a verification email shortly.
There was a problem. Please refresh the page and try again.