Could Taylor Swift Be The Star Of The Valentine's Day Sequel?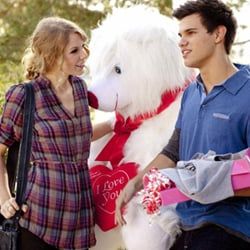 The fact that I actually enjoyed Valentine's Day is coming back to haunt me. I certainly don't think it's a well made film, but that doesn't mean it wasn't excellent holiday fare. There was just one thing in Valentine's Day that was so awful I couldn't get past it: Taylor Swift and Taylor Lautner. I don't care if you think it's the best film of the year, you have to recognize that those were two of the poorest performances in recent history. Even worse, there was absolutely no point to their portion of the film.
Now it seems as though my worst nightmare could be coming true. According to E! Online, the Valentine's Day sequel, New Year's Eve, is in the works and the plan is to recast the entire roster – except Swift. One of their "sneakiest sources" who they claim has a firm had on the film said, "They were thinking about having Taylor Swift be in college at NYU." The source added, "They were throwing her name out there a while back." That person also turned down the idea that Lautner would return as well saying, "They only mentioned Taylor Swift, and she's not even in right now." The keyword in those quotes is "were." Does that mean Swift returning was a thing of the past and isn't happening anymore? I hope so.
And I'd like to bet it actually is just an old idea too. Just a couple of weeks ago Ashton Kutcher mentioned he might return for New Year's Eve, which would completely contradict some of E! Online's news. Kutcher said he's been asked to return, but he won't make a decision until he reads the script. I'm going to let out a major sigh of relief and assume that this whole Taylor Swift thing was just an old idea that's now history.
Your Daily Blend of Entertainment News
Staff Writer for CinemaBlend.