Of Course The Hunger Games Has To Digitally Recreate Philip Seymour Hoffman In Mockingjay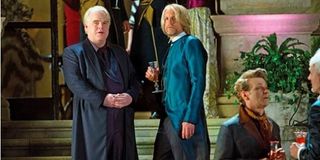 Shortly after it was reported that actor Philip Seymour Hoffman had lost his battle with drug addiction, fans of his ongoing work in the Hunger Games series began to wonder if his part would be altered – or completely recast – in the last two installments of Mockingjay. Hoffman's character, Plutarch Heavensbee, is a major component of the developing narrative in Suzanne Collins' third and final novel, and Lionsgate clearly hired an Oscar winner like Hoffman to carry some dramatic loads. What was director Francis Lawrence to do in the wake of this unexpected tragedy?
Sources touched on the fact that Hoffman still had one major scene left to film in Mockingjay, Part 2, and that certain filmmaking tricks would have to be employed to complete the movie. Today, yet another version of that story is circulating, with The NY Post becoming the first outlet to confirm that the filmmakers will "digitally recreate" Hoffman in this pivotal scene. As was reported earlier, none of this will affect the release date of either Mockingjay film. Part one is due in theaters on Nov. 21.
At the risk of sounding insensitive, of course Hoffman is going to have to be recreated digitally. The studio is left with very few options in light of what has occurred. The first two movies adapted from The Hunger Games books have followed the source material very closely, and a rewrite for a character as important as Heavensbee is out of the question. Recasting makes no sense, as Hoffman allegedly had only seven days left to film (and reportedly had completed all of his work in Mockingjay, Part 1). What, are you going to allow Hoffman to play the character in Catching Fire and the first Mockingjay, then ask an actor to fill his shoes in the franchise's swan song?
Obviously, this is a movie that we are talking about, and the future of a film franchise pales when compared to the loss of one man who has contributed a great deal to the art and craft of on-screen performance. But Hoffman's overdose left Lionsgate in a difficult spot, and it's within their right to use the technical tools at their disposal to finish the work that Hoffman had started. We have seen, over the years, the amazing feats that can be accomplished with digital tools, from the worlds James Cameron creates to the characters created in digital blockbusters on a weekly basis. Hoffman undoubtedly left Lawrence and his team plenty of footage with which they can work, and if they choose to digitally create his likeness to get the scene they need for Mockingjay, I'm confident it means they explored all possible options and chose the one that was necessary.
Will it be strange to see Hoffman digitally recreated on screen? It will, if we're even able to notice. This new bit of news probably means that they are going to recreate the back of Hoffman's head in a conversation (though this is speculation on our part). Is it the best scenario? No. The best scenario would involve Hoffman finishing the work that he started on The Hunger Games movies, then moving on to countless more interesting and challenging roles. Sadly, that option's no longer on the table.
Sean O'Connell is a journalist and CinemaBlend's Managing Editor. He's frequently found on Twitter at @Sean_OConnell. ReelBlend cohost. A movie junkie who's Infatuated with comic-book films. Helped get the Snyder Cut released, then wrote a book about it.
Your Daily Blend of Entertainment News
Thank you for signing up to CinemaBlend. You will receive a verification email shortly.
There was a problem. Please refresh the page and try again.