The Martian: 5 Cool Little References The Movie Works In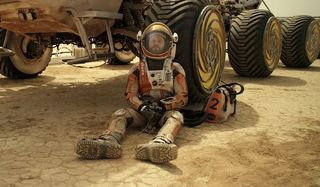 Ridley Scott's The Martian has been nearly universally praised for its smart and fantastic approach to sci-fi – centering on a character who has fun while solving life-threatening problems with science – but the film also truly has a wonderful pop culture sensibility. Throughout the film, various nods and mentions are made to films and television shows, not only helping to pepper the adventure with humor and wit, but also making the characters appear more human and relatable. It's an intelligent and perfectly utilized tool, and a particular aspect that's worth celebrating.
Read on for five great pop culture references from The Martian!
SPOILER WARNING: The following article contains many, many spoilers for The Martian. If you haven't had the opportunity to see the film just yet, we recommend clicking away to another one of our wonderful articles.
Happy Days
To kick things off, let's talk about the reference that actually winds up becoming a little callback joke. The Martian first establishes a connection with the classic sitcom Happy Days as Mark Watney watches it while trying to come up with some kind of way to produce water for his potato crops. It's towards the middle of the movie, however, that the TV classic comes back to provide movie-goers with a big laugh. It's requested by NASA that Mark use the Pathfinder camera to take a picture of himself, and the astronaut/botanist ultimately decides that the best pose to go with in the double thumbs-up Fonzie look. It's one of the many moments in the movie that really lets the audience appreciate just how fantastic Watney is as a character, and become emotionally invested in his survival. You can't help but love a guy for being this silly while also stranded all alone on the surface of Mars.
Lord of the Rings
The Martian has many sequences and lines that we will be remembering for a long time, but the moment that has the real potential to go down in geek history is Project Elrond. A name chosen to reflect the fact that the operation and talks about it are being kept secretive, the scene is not only a perfectly nerdy reference to The Lord Of The Rings, but also gets bonus points for actually having Sean Bean involved (the actor having been featured in Peter Jackson's live-action adaptation of the Council of Elrond in The Fellowship of the Ring). Ridley Scott actually wanted to cut this part out of The Martian because he actually felt it was too silly, but a Fox executive told him that it should stay in because it's funny. So while things usually move in the other direction, in this case I guess we should say thank you, nameless Fox executive!
Leather Goddesses of Phobos and Zork II
In The Martian, it's the geeks who are the true heroes of the story, and pretty much every aspect of that phrase is celebrated in the film. This even extends to geeks who never really managed to move on beyond video games of the 1980s, and continue playing titles such as Leather Goddesses of Phobos and Zork II. While searching for a hexadecimal translation chart so that he can better communicate with NASA, Mark Watney comes these two games loaded into a laptop belonging to Beth Johanssen (Kate Mara) – and even he can't help himself making fun of her nerdery. After their initial reference, neither get mentioned again in the rest of the movie – though given the amount of time passes without us seeing anything that's going on, we do hope that Watney spent at least some of his time on Mars both beating and mastering every level of them.
Buffy The Vampire Slayer
Most of the references noted here are pretty blatant and obvious, so hopefully you'll bear with us as we take a tiny little trip over to stretch-town. As any die-hard Whedonite would quickly and happily point out, The Martian screenwriter Drew Goddard got his start in Hollywood working as a writer on Buffy The Vampire Slayer, and there's a moment in the film when fans can catch what seems like it may be a very tiny nod. Specifically, towards the end of the movie we hear a situation described as being "five by five" – arguably the catch phrase of Eliza Dushku's character, Faith. It's entirely possible that this bit of dialogue is utilized by the Ridley Scott movie in more of a "NASA speak" capacity, but the expression has so much resonance amongst Buffy fans that it's hard not to hope that it's a nice little allusion to Goddard's past.
Iron Man
Matt Damon has said that he doesn't really have a ton of interest in becoming a comic book superhero – outside of a Christopher Nolan-made Daredevil adaptation - but Ridley Scott's The Martian does provide him the opportunity to play Iron Man for just a little bit. In the film's final big action sequence, Mark Watney finds himself with just one more little problem that he has to solve before making his way back to Earth – and it involves him needing to cut a hole in his space suit and fly through nothingness towards a floating, waiting Melissa Lewis (Jessica Chastain). It's a moment that comes after declarations of being the first to colonize Mars, and being the first ever real space pirate, but one could argue that Mark declaring his plans to become Tony Stark's heroic alter-ego is one of his most prideful moments.
NJ native who calls LA home; lives in a Dreamatorium. A decade-plus CinemaBlend veteran; endlessly enthusiastic about the career he's dreamt of since seventh grade.
Your Daily Blend of Entertainment News
Thank you for signing up to CinemaBlend. You will receive a verification email shortly.
There was a problem. Please refresh the page and try again.