Of Course Ryan Reynolds Has Cheeky Names For His Katanas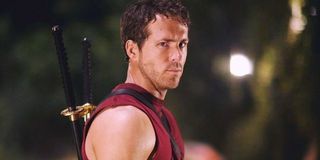 Ryan Reynolds has been doing a bang-up job of keeping everyone across the world wide web up to date with Deadpool news. He not only recently starred in a sublime April's Fool Day video that poked fun at the rumor Deadpool might be PG-13, but he's now insisted that he's even given nicknames to his katanas for the upcoming adaptation.
Reynolds took great glee in heading to his Twitter account to reveal that he's given each of his swords adorably mundane names. Reynolds respond to the question, "I'm curious, have you named your katanas?" with:
Is this Ryan Reynolds' way of proving that he's a massive fan of the work of Bea Arthur? Let's hope so. The celebrated actress is mostly remembered for her Emmy Award-winning portrayal of Dorothy Zbornak in The Golden Girls, and she was a bonafide national treasure.
Reynolds himself is no stranger to the small-screen, having originally started his career on the Canadian soap opera Hillside before he caught the attention of Hollywood studios and producers thanks to his performances as Michael "Berg" Bergen in Two Guys, a Girl, and a Pizza Place.
In fact, his performances in Two Guys ultimately led to him being cast as the lead in National Lampoon's Van Wilder, which turned him into a hot commodity in Tinseltown. Since then, Reynolds' Hollywood credentials have actually struggled to blossom. Yes he's been in Blade: Trinity and played Hal Jordan in Green Lantern, and he always proves to be a delight in everything that he appears in, but it almost feels like his career has since stalled. There's a sneaking suspicion though that Deadpool might help to alter this slide and propel Reynolds into a new direction.
Thanks to the persistence of Ryan Reynolds and the creative team behind the adaptation, Deadpool is set to be the most mature comic book film in modern memory. In fact, despite the fact that Reynolds has already portrayed Wade Wilson/Deadpool in X-Men Origins: Wolverine, director Tim Miller, writers Rhett Reese and Paul Wernick, and producers Lauren Schuler Donner and Simon Kinberg want to reboot the character entirely with 2016's Deadpool.
This means that the upcoming Deadpool will be much closer to what fans know from the comics, so not only is he going to be mentally unstable, but his extremely talkative and cheeky personality will be at the fore of the film. Plus, he's set to break the fourth wall and make reference to the fact that he's in a movie. All of these ingredients suggest that Deadpool could be the most unique comic book movie in years. We'll see if it manages to live up to this reputation when it finally hits screens on February 12, 2016.
Your Daily Blend of Entertainment News
Your Daily Blend of Entertainment News
Thank you for signing up to CinemaBlend. You will receive a verification email shortly.
There was a problem. Please refresh the page and try again.