Deadpool Set Pics Provides A Badass Close-Up Of The Mercenary In Action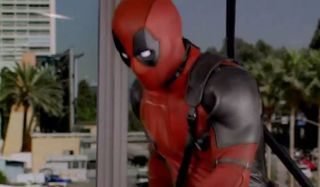 Deadpool is in the midst of shooting what will surely be one of its biggest action sequences up in Vancouver, Canada, and while we got a wide shot of some awesome destruction earlier today, now we have a lovely on-set close-up of Marvel's funniest, most badass mercenary.
This shot - which could honestly be its own weirdly dramatic poster for the movie - has been posted by Twitter user @pursuit23, and while it's not exactly our first look at the Deadpool costume, it's still pretty damn impressive and looks like it was ripped straight out of a Marvel comic book. It even looks like they got the pinched part at the top of his mask right.
The same photographer also caught a shot of Deadpool's profile, which you can see below:
Looking at this shot, one of the more interesting things to note are the way the eyes on the mask look. It definitely looks like there is some kind of white screen covering the actor's eyes, but you'll also notice that there are multiple markers all around the black portion of the mask. This is presumably so that the visual effects team can manipulate the look, replicating the cartoonish way that Deadpool's eyes move in the comics. That's an element of bringing Deadpool to life that we probably wont' get to see until the first trailer drops - and that may not be until much later this year.
But that's not all! There's video too!
In case you missed the story from earlier, the Deadpool production is currently filming on the Georgia Viaduct in Vancouver, and while it's not 100% confirmed what they are shooting, it looks a hell of a lot like the all-CGI test footage that was leaked online last summer. In that clip, Deadpool dives off of a highway into a speeding SUV, knocks out everyone inside, causes the SUV to go rolling, and then cuts off the head of a motorcyclist who begins firing a machine gun at him. It should be rather thrilling to see that whole bit made into live action, though at the same time I hope that it is just slightly different, if not just to feel fresher.
In addition to Ryan Reynolds starring in the title role, Deadpool also features a supporting cast that includes Morena Baccarin, T.J. Miller, Ed Skrein, and Gina Carano. Production is expected to roll on for at least the next few weeks, and 20th Century Fox will have the final product in theaters on February 12, 2016.
Your Daily Blend of Entertainment News
Assistant Managing Editor
NJ native who calls LA home and lives in a Dreamatorium. A decade-plus CinemaBlend veteran who is endlessly enthusiastic about the career he's dreamt of since seventh grade.