New DVD Releases: February 2016 In Home Entertainment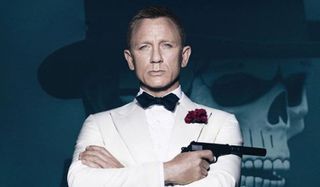 Usually February isn't a great time for new DVD and Blu-ray releases, but this year the major studios seem to have gone all out. There are some splashy awards contenders heading to Blu-ray and DVD this month, but also some fun releases,including a new edition of Snow White and even Sabrina The Teenage Witch: The Complete Series. You can check out all of the big releases that will be available, below.
And if you are looking for what came out in January, you can check out our full list, here.
February 2
Our Brand Is Crisis Blu-ray
Outwardly, Our Brand Is Crisis has a lot going for it, including a snappy title, a compelling cast list and an interesting directorial choice in Eastbound & Downs's David Gordon Green. While Our Brand Is Crisis does have some hilarious moments coupled with some intriguing political moves, the Sandra Bullock-starrer doesn't make for the awards hopeful the early previews made us optimistic for. Still, some great verbal sparring between Bullock's Jane and Billy Bob Thornton's Pat is worth watching and as Jane attempts to nab a win for her political candidate Castillo (Joaquim de Almeida), her team (Scoot McNairy, Zoe Kazan, Ann Dowd and Anthony Mackie) and the shenanigans they get up to are worth a watch. Just don't go into this one expecting something special. Warner Bros. Home Entertainment's set is devoid of bells and whistles, but there is one bonus feature with Sandra Bullock that is available if you want to hear all about actors talking about their roles. You can order Our Brand is Crisis here (opens in new tab).
Suffragette Blu-ray
Suffragette is about a lot of things: marriage trouble, workforce issues, equal rights for women, poverty, abuse. The film stars Carey Mulligan as Maud Watts, a laundress who has worked since her prepubescent years, but has been unhappy with her situation, thanks to living in poverty and being abused by her boss. When the suffragette movement goes into full swing in her neighborhood, she inadvertently gets involved, but begins to like what she sees from her suffragette comrades, Emily (Natalie Press), Edith (Helena Bonham Carter) and Violet (Anne-Marie Duff). Sarah Gavron's movie isn't exactly a fun film, in fact it's mostly a worst-case scenario about what a woman's lack of freedom could look like. Still, it's a compelling reminder that society has come a long way, and still have a long way to go. A remarkable number of extras are actually available with Universal Studios Home Entertainment's set, including the now-basic audio commentary and a featurette and a VFX featurette, the latter of which I wouldn't have presumed was a huge deal for this sort of movie. Order your own copy here (opens in new tab).
Other February 2 Blu-ray And DVD Releases
Bridge of Spies
Snow White & The Seven Dwarfs Blu-ray
Truth
Our Brand Is Crisis
Show Me A Hero
Suffragette
Falling Skies: The Complete Fifth Season
The Last Witch Hunter
Rock the Casbah
Meadowland DVD
Big Stone Gap
Mercy Street
From Dusk Till Dawn: The Complete Second Season
Kahlil Gibran's The Prophet
The Land Before Time: Journey of the Brave DVD Walmart
The Beauty Inside
For Better Or For Worse Hallmark DVD
My Boyfriends' Dogs Hallmark DVD
Extraordinary Tales
The Keeping Room
Man Up
Week of February 2 Digital Releases
Spotlight
The 33
Zombie Fight Club
Steve Jobs
February 9
Crimson Peak Blu-ray
Guillermo Del Toro's Crimson Peak follows more squarely under gothic romance than it does horror film. The setting is as spooky as you would expect from a Del Toro film, and there are ghosts and monsters—of a sort—involved, but Crimson Peak is mostly about deep emotions and how those emotions can sometimes be as frightening as they are compelling. It starts with a girl, Edith (Mia Wasikowska), the wealthy daughter of a businessman who is eager to fall in love. She believes she has found it in Sir Thomas Sharpe (Tom Hiddleston (opens in new tab)), who lives with his sister Lucille (Jessica Chastain), in a big, drafty and tattered estate built on red clay. But not everything is as it seems in the big, old house, and soon Edith's very life is at stake. The rest unfolds in moments of suspense and gore, in a twisted and emotive narrative that plays out slowly, but ends on a satisfying note.
The extras within Crimson Peak's Blu-ray set totally run the gamut from deleted scenes to information about gothic romances and costume design. The latter segment "Hand Tailored Gothic," is a little weird to navigate to, but otherwise I have no complaints about Universal Studios Home Entertainment's set. Crimson Peak won't be a movie for everyone, but if you do like it, you can order it over at Amazon (opens in new tab).
Spectre Blu-ray
Spectre in the 24th installment in the James Bond franchise and quite possibly the last to feature Daniel Craig. It's a pretty fun movie with a spectacular opening sequence that makes great use of the new M (Ralph Fiennes) and Moneypenny (Naomie Harris), but makes less great use of its villain, Ernst Stavro Blomfeld (Christoph Waltz), whose name is the least cartoon-ey thing about him. Still, despite the fact that Spectre impresses a little less than its predecessor, Skyfall, Sam Mendes' still mostly works, employing plenty of the gadgets we've come to love from the Bond films, not to mention the one-liners. Twentieth Century Fox Home Entertainment knows where the money is at with Sony's latest Bond film. One of the bonus features focuses on the opening sequence in the film, which places James Bond in Mexico City just in time for the Day of the Dead. "Bonds Biggest Opening Sequence" is the best extra on the disc and worth a watch. Catch the movie on Blu-ray, here (opens in new tab).
Grandma Blu-ray
Lily Tomlin makes nearly everything better, which is why she is absolutely crushing it on Netflix's Grace & Frankie and in Grandma despite being in her seventies (a time when many other actresses and actors are already out of the game). In Paul Weitz's Grandma, the subject matter will be tough for some. A burdened 18-year-old named Sage (Julia Garner) enlists the help of her freewheeling grandmother Elle (Tomlin) in order to try and raise money for an abortion so she can continue her life plan. The subject matter is handled deftly and with emotion, and side performances from Elle's former lovers (Sam Elliott and Judy Greer) as well as her daughter (Marcia Gay Harden) help to keep the story grounded and engaging. The Sony Picture Home Entertainment isn't a loud movie or a big budget one and the Blu-ray set as such isn't particularly highfalutin; still there are more extras than you would guess for a low budget flick on this disc, including a shorter Q&A and longer audio commentary from the cast and director. Order your own copy here (opens in new tab).
Other February 9 Blu-ray And DVD Releases
Love the Coopers
MI-5
Star Trek: The Next Generation Motion Picture Collection
The Leftovers: The Complete Second Season
99 Homes
Week of February 9 Early Digital Releases
Legend
The Night Before
The Peanuts Movie (February 12) Glassland (February 12) Sandcastles (February 15)
February 16
Steve Jobs Blu-ray
Steve Jobs is about a personality more than it is about a person. It's not particularly interested in where the Apple co-founder was born or where he ended up. Instead, it's interested in the aggressive, straight-ahead, relentless personality of a man that both fascinated and infuriated those around him. Told through the lens of several high profile speeches the visionary gave, Steve Jobs lets viewers know the subject in a way a simple list of facts never would have. That's the key here. Liberties are taken. Details are changed, but director Danny Boyle and the magnificent cast that includes Michael Fassbender are able to get the spirit right. Fans looking to get further inside the head of the pioneer will especially enjoy Universal's Blu-ray set, which includes multiple feature commentaries that talk about Jobs, as well as a wonderful featurette about the larger making of the movie. You can buy it at Amazon, here (opens in new tab).
Trumbo Blu-ray
Jay Roach's Trumbo isn't a movie about standing up for what you believe in. It's a movie about the degrees to which people stand up for what they believe in. It's about what people are willing to sacrifice and what they will never gamble, even with good odds. During the height of the red scare, Dalton Trumbo was one of the most famous screenwriters in the world. He was blacklisted and sent to jail for being a Communist, along with several others. Some of them fought harder, faster and more aggressively. Trumbo fought to manipulate his way back into the very system that pushed him away. It's an inspiring story of compromise, and it's no surprise Jay Roach's film was nominated for some Academy Awards. Fans of history will definitely enjoy the flick, and hopefully they'll enjoy Universal Studios Home Entertainment's Blu-ray set, although extras are light on the disc. A few featurettes are included, which include a look back at the historical Dalton Trumbo and a look at how Bryan Cranston transformed himself into the screenwriter. You can buy it at Amazon here (opens in new tab).
The 33 Blu-ray
Heartwarming stories aren't typically the big releases out this time of year, as it's a lot of awards hopefuls and artsy films that are vying for people's attentions. However, if you're looking for a story with a happy-ish ending, The 33 is it. If you've paid attention to the news over the past several years, you are probably already familiar with the Chilean Mining Disaster that made daily headlines around the world in 2010. We already know the ending to the actual incident, so we already know the ending to The 33. But a strong cast (including Antonio Banderas, James Brolin, Juliette Binoche and Rodrigo Santoro) keeps the momentum up in the movie's less riveting moments, when all of the claustrophobia from the mining incident has set in and the men can only wait. And wait. And wait. Warner Bros. Home Entertainment's set doesn't delve much into the history behind The 33, but fans who do want to purchase the film will also get an Ultraviolet copy. Order it here (opens in new tab).
Black Mass Blu-ray
Johnny Depp has a penchant for playing interesting and intricate characters, and it's hard to get more interesting than gangster Whitey Bulger. The 2015 biopic is directed Scot Cooper and tells the story of Whitey Bulger's gang who is living and working in South Boston in the 1970s. Flashbacks and flash forwards are implemented, giving the movie an intriguing pace and feel, which is at some moments slow and others violent. If you are interested in the Winter Hill Gang, you'll doubtless find a lot to like here, but as far as American Gangster films go, this isn't the most compelling gang-related big screen endeavor we've seen in recent years. Luckily, it does have a stacked cast, including Joel Edgerton, Benedict Cumberbatch, Fargo's Jesse Plemons and Kevin Bacon, and is worth at least one watch. If you do go a step further and purchase Warner Bros. Home Entertainment's big Blu-ray set, you'll get a DVD and Ultraviolet copy of the flick, as well as a few bonus features that look at the history of the film and how Johnny Depp approached the role. Order it here (opens in new tab).
Togetherness: The Complete First Season Blu-ray
While HBO is known for several long-running dramas and comedy, in the past year, the subscription cable network has actually ramped up its programming quite a bit. One of the network's newbie comedies is Togetherness, the offbeat comedy starring Mark Duplass, Amanda Peet, Melanie Lynskey and Steve Zissis. Brett and Michelle Pierson (Duplass and Lynskey) are married but having problems when they let their friends Tina and Alex (Peet and Zissis) stay in their home while they work out the shit in their respective lives. This leads to some fun days, some drama, and a cliffhanger ending in the final episode that makes us very happy that HBO has renewed the series for a second season. Togetherness is clearly not the flashiest of HBO's shows, and as such, HBO Home Entertainment's bonus set is not too flashy, either. There are deleted scenes on the disc that help to flesh out moments between the characters more and interviews with Amanda Peet (who is married to Game of Thrones showrunner David Benioff). Lots to love here if you want to revisit the show again, but this is not a must-purchase if you have access to HBO Now or Go. Order the Blu-ray here (opens in new tab).
February 16 Blu-ray And DVD Releases
Estranged (February 12) Trumbo
Girls: The Complete Fourth Season
Criminal Activities
Peaky Blinders: Series Two
Labyrinth of Lies
Sabrina The Teenage Witch: The Complete Series DVD
Week of February 16 Early Digital Releases
The Affair
Creed
The Danish Girl
February 23
Fargo: Year 2 Blu-ray
Fargo's first season was tightly scripted and highly entertaining, but with a change of setting and a jump back in time, Fargo: Year Two is given free rein to tell a wild and compelling story. The Sioux Falls Massacre is mentioned a few times by Keith Carradine's Lou Solverson. In Year Two, we head back to 1979, where a much younger Lou Solverson (Patrick Wilson) is just returning from Vietnam to do more local, but no less bloody work as a policeman. A murder mystery leads him to cross paths with a slew of interesting individuals, including Peggy and Ed Blumquist (Kirsten Dunst and Jesse Plemons), the Gerhardt crime family, lead by Floyd (Jean Smart), and more. Also, Season 1's Martin Freeman is back as the narrator, which is pretty swell. If you haven't seen it, yet, I won't spoil the more fanciful, absurd parts of Season 2, but I will say, all 10 episodes of the Noah Hawley-led program are a doozy and the split screen camera work and beautifully shot landscapes look really great on Blu-ray.
There's a cute little sticker on the front of the packaging that promises "fascinating" cast and creator interviews. They're not (although they are extensive, with one specific interview feature running at 45 minutes). But that's okay, because there are a lot of other fun extras with the set--like the one about crime in the Midwest--spread across the three Blu-ray discs. You can order Twentieth Century Fox Home Entertainment's set over at Amazon (opens in new tab).
Spotlight Blu-ray
Spotlight is a careful, well-organized movie that doesn't care about being showy. It eschews big emotional moments for slow, methodical story development, which makes a lot of sense. The case against the Catholic Church wasn't built in a day. It was built by the members of the Spotlight team in steady stream, though long nights and dogged determination. Spotlight honors that workload, and it does so in a way that lets viewers really understand how hard it is to break a story. It never contrives or manipulates either. It just uses great performances by Michael Keaton, Mark Ruffalo, Rachel McAdams and a whole lot more to let viewers connect. The strategy works too. Director Tom McCarthy's end result is very compelling and very emotional, without every feeling cheap or undeserved. Not surprisingly, many of Spotlight's features focus on journalism. They're extremely compelling, and given how much the film will affirm viewers' faiths in journalism, one would imagine Universal's featurettes, including "The State Of Journalism," will be consumed a lot more than most Blu-ray extras. You can pick up the disc over at Amazon here (opens in new tab).
February 23 Blu-ray And DVD Releases
Secret In Their Eyes
Spotlight
Fargo: Year 2
Doctor Who: The Husbands of River Song
Extraction
I Smile Back
Diablo
The Lion Guard: Return of the Roar
Week of February 23 Early Digital Releases
Brooklyn
In the Heart of the Sea
Victor Frankenstein
Yosemite
My All American
Day Out of Days
Your Daily Blend of Entertainment News
Reality TV fan with a pinch of Disney fairy dust thrown in. Theme park junkie. If you've created a rom-com I've probably watched it.