Daft Punk Star In A Glow-In-The-Dark Tron: Legacy Poster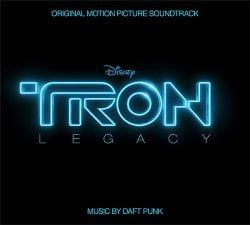 Did you know that it's just 10 weeks left to go until the release of Tron: Legacy? Unless you're an insane Tron fan or working for Disney's publicity department probably not, but the Disney folks are determined that you will soon, goshdarnit. They're kicking off the 10-week countdown with plans to release new Tron footage every Tuesday through December, plus the announcement of "TRON Night" on October 28, when a 20-minute sneak peek of the film will hit theaters across the country.
On top of all of that, Daft Punk's soundtrack for the film is now available for pre-order, though the wait until December 7 for the actual release may be excruciating. You can pre-order the soundtrack here and also get a look at the Daft Punk Tron: Legacy poster that comes with it. Because it's a glow-in-the-dark poster they're only showing off the glowing parts right now, which are the lines that go on the Daft Punk team's iconic suits and helmets. I actually kind of like minimalism, and worry it won't look nearly as cool as a final product, but the design work for everything Tron: Legacy has been so solid so far that I probably ought to just trust them.
Check out the poster below and get ready for the Tron press deluge. I'll remind you now that the movie hits theaters December 17, though I expect that by the time Disney is done, there will be no way you can forget it.
Your Daily Blend of Entertainment News
Staff Writer at CinemaBlend