Daniel Radcliffe Comments On New Harry Potter Story And Its Movie Adaptation Potential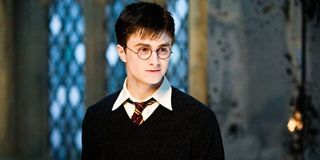 J.K. Rowling surprised Harry Potter fans yesterday by delivering a new piece of Potter-focused content on the official Harry Potter website. Was it enough content to constitute a movie? Probably not, but with fans and the media abuzz on the subject, it's no surprise that Daniel Radcliffe would be asked about the new mini-story and whether or not he'd be up for playing Harry Potter again. His response to the latter question sounded doubtful, but in an uncertain way.
Before we get to Radcliffe's comments, if you missed yesterday's big update, the new Harry Potter content came in the form of a "Daily Prophet" article posted at Pottermore.com, written by fictional gossip columnist Rita Skeeter. In addition to being peppered with Rita's notoriously snarky commentary, the article offered more than a few updates on what Harry Potter, Ron Weasley, Hermione Granger and some of the other Dumbledore's Army veterans are up to these days.
HitFix reported from the 2014 Television Critics Association Summer press tour, where Harry Potter star Daniel Radcliffe was to promote the upcoming Ovation series A Young Doctor's Notebook, in which he stars alongside Jon Hamm. Radcliffe was asked if he'd be up for playing Harry Potter again, to which he responded, "I don't know. My inclination is to say 'No.'"
Hitfix interprets that response to be referring specifically to playing Harry Potter again if this Rita Skeeter article were to somehow be adapted for a film. And what Radcliffe says next seems to point toward that being the correct assumption. "It's not even hypothetical at the moment. What she's written, I haven't read it yet. I am going to read it," Radcliffe said. "But [it is], as I understand it, a very short piece that I'm not sure it, of itself, worthy of adaptation to film."
He's not entirely wrong. I say entirely because we might have assumed it would be impossible to adapt Fantastic Beasts and Where to Find Them into one movie -- let alone a trilogy -- but J.K. Rowling's making that happen. So a Rita Skeeter movie wouldn't be completely impossible. Unlikely? I'm going to speculate as much, but not impossible. Especially when we consider the potential Quidditch Through the Ages movie that could happen. Rita's article is reporting gossip at the Quidditch World Cup after all. Just saying.
Moving on to Radcliffe's other comment, he goes on to say, "He's at least sorta 12 years older in it than I am now, so I don't think I'll have to worry about that for a long time, I'm hoping."
In the Harry Potter universe, Harry was born in 1980, so he'll be turning 34 at the end of this month, which makes him about a decade older than Daniel Radcliffe. The actor was aged up quite a bit at the end of Harry Potter and the Deathly Hallows to reflect the character as he would look in 2017, nineteen years after the Battle at Hogwarts...
It's one thing to age him up with makeup and special effects for a scene in a movie, it would be quite another to do that to Radcliffe for a whole film... unless the movie were to be focused on Harry and his friends' kids and their adventures at Hogwarts.
It's all hypothetical right now, especially when we consider that Warner Bros. and J.K. Rowling are busy developing the mentioned Fantastic Beasts and Where to Find Them trilogy. The story for those films is expected to pick up in or around the 1920s, long before Harry Potter was born, so it's unlikely Radcliffe would have a part in it... unless they brought him in to cameo as one of the Potters or Peverell's...
Assistant Managing Editor
Kelly joined CinemaBlend as a freelance TV news writer in 2006 and went on to serve as the site's TV Editor before moving over to other roles on the site. At present, she's an Assistant Managing Editor who spends much of her time brainstorming and editing feature content on the site.
Your Daily Blend of Entertainment News
Thank you for signing up to CinemaBlend. You will receive a verification email shortly.
There was a problem. Please refresh the page and try again.