J.K. Rowling Just Wrote A New Harry Potter Story And We've Got The Details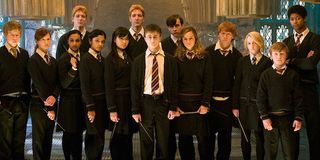 As the Quidditch World Cup has played out by report at the official Harry Potter website, Ginny Potter (nee Weasley) has been reporting from the games, delivering the updates for those wizards and muggles who can't be present at the magical event. But it was Rita Skeeter's recent report that has Potter fans abuzz today, as the gossip columnist, who's known to be "enchantingly nasty" with a quill, reported of Dumbledore's Army's attendance the fictional event, including an update on Harry, Ron and Hermione. In other words, J.K. Rowling has given us new Harry Potter material, presented as a gossip report.
Before we get to that, it's well worth noting that in the Harry Potter universe, by the timeline set in the books, we're still a few years away from the "Nineteen Years Later" epilogue in Harry Potter and the Deathly Hallows. That chapter was set in 2017, therefore, the updates mentioned by Rita Skeeter in her Daily Prophet article today are actually the status of the characters three years prior to little Albus Severus Potter boarding the Hogwarts Express for the first time. But the article offers plenty of information, colored with Rita Skeeter's flair for gossip and the occasional jab at Harry and others.
What did Rita reveal?
The article is posted at Pottermore.com, the official Harry Potter website, which has recently been running a series of "articles" penned by the Daily Prophet's Quidditch Correspondent, Ginny Potter, who's been reporting out of the Patagonian desert, where the event is taking place.
Rita's article -- which can also be found at Today.com (opens in new tab) -- notes that Harry Potter is about to turn 34, that he's working as an Auror and his hair is starting to gray. Ron's hair is thinning -- I love the hair updates, Rita -- and we learn from the article that he left his job at the Ministry of Magic after two years to co-manage Weasley's Wizard Wheezes with George. So, Ron's not an Auror. Interesting.
Hermione, meanwhile, is Deputy Head of the Department of Magical Law Enforcement, and from what Rita says, it sounds like she's on the rise at the Ministry. That's one of the more gossipy mentions in this article that I'm inclined to believe. I'm also not opposed to believing Neville Longbottom and his wife Hannah (nee Abbott) enjoy a bit of firewwhisky when relaxing at the Leaky Cauldron after a hard days work. We knew from the Deathly Hallows epilogue that Neville was the Herbology professor at Hogwarts, and that appears to be the case three years prior as well. As for Hannah, it sounds like she might be poised to take over the job of Matron at Hogwarts. Is Madam Pomfrey retiring?
And then there's Luna, who's apparently wandering around the Quidditch World Cup dressed in a cloak made up of all the country's flags. Awesome. Rowling actually revealed previously that Luna married Rolf Scamander, grandson to Newt -- author of Fantastic Beasts and Where to Find them and the central character of the anticipated Fantastic Beasts movies. Luna and Rolf have twin children.
Teddy Lupin and Victoire Weasley are apparently attached at the mouth at this point, and we know they'll continue to date through 2017, as James Potter distressfully reports of seeing them snogging on the platform. Meanwhile, Charlie Weasley is still unmarried, Bill and Fleur are still together, and Percy's working for the Department of Magical Transportation.
Rita ponders the theory that Harry Potter might be facing a "new age of terror." We talk about that after the jump...
New danger and mysteries ahead?
There's a lot of great information in there, along with a maddening tease of new adventures, which may require a major grain of salt. This is Rita Skeeter we're talking about here. She tends to sensationalize things after all, and that may be the case as she notices the nasty cut Harry is sporting on his right cheekbone and ponders what he's getting up to at work. With that said, grain of salt included, it's hard not to see words like "Is the Chosen One embroiled in fresh mysteries that will one day explode upon us all, plunging us into a new age of terror and mayhem?" And not wonder if maybe, just maybe, J.K. Rowling is imagining a future for her characters right now.
We can daydream. In the meantime, let's all celebrate the awesomeness of this update, as it allows us to imagine the characters again in a new context, all convening with other Dumbledore's Army members at the Quidditch World Cup, enjoying the happily ever after they've earned.
Rowling is likely keeping busy these days, working on the mentioned Fantastic Beasts films, the first of which is due to hit theaters November 2016.
Your Daily Blend of Entertainment News
Assistant Managing Editor
Kelly joined CinemaBlend as a freelance TV news writer in 2006 and went on to serve as the site's TV Editor before moving over to other roles on the site. At present, she's an Assistant Managing Editor who spends much of her time brainstorming and editing feature content on the site.
Your Daily Blend of Entertainment News
Thank you for signing up to CinemaBlend. You will receive a verification email shortly.
There was a problem. Please refresh the page and try again.