Daryl Hannah Really Hates The Film Roles Hollywood Keeps Offering Her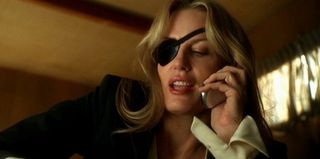 Even when an actor has a big, profile-boosting role, that doesn't always mean they're in for a sustained upswing. Such is the case of Daryl Hannah after her badass role in Quentin Tarantino's Kill Bill saga gave her career a boost in 2003 and 2004. She recently spoke about kind of roles she's been offered in the years since, candidly calling them, "mostly crap."
In an interview with The Sunday Times, the 54-year-old actress was asked if this state of affairs bothers her. While she initially said that she's not particularly upset by this turn, she added:
She may not be particularly bothered, but at the same time, she certainly is not at all thrilled, and sounds frustrated by the limited options she's encountered. This is part of a larger trend in Hollywood, that as women start to age past the point of being young, sexy starlets, there is a woeful dearth of quality, interesting roles. It's like you're either the hot object of affection or someone's mom, and there isn't much in between.
After making her debut in Brian De Palma's thriller The Fury in 1978, Daryl Hannah really became a star in the early to mid 1980s, with notable turns in movies like Splash, where she plays a mermaid Tom Hanks falls in love with; playing a tough as nails synthetic human in Ridley Scott's science fiction classic Blade Runner; and Wall Street, among many other high profile parts.
After a bit of a downturn in notoriety in the 1990s, when Quentin Tarantino cast her as the one-eyed Elle Driver, part of an all female group of ruthless international assassins, it looked like her career was about to take an upward turn, much like John Travolta's did after he starred in the director's Pulp Fiction. Though she's been working consistently in the subsequent years, Hannah has mostly been relegated to roles in B-grade action and horror films (she currently has two movies in the works with Vampire in the title).
That's not to say it's all been bad since Kill Bill, however, as she recently appeared in the Wachoswki's sci-fi series Sense8 on Netflix. While that may not have a huge profile, the show was renewed for a second season and has developed a solid fan base, but it's certainly on a different level.
Your Daily Blend of Entertainment News
Thank you for signing up to CinemaBlend. You will receive a verification email shortly.
There was a problem. Please refresh the page and try again.