David Cronenberg's Films Becoming An Augmented Reality Game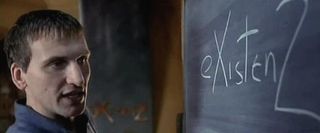 This year was already shaping up nicely for fans of filmmaker David Cronenberg. His latest release A Dangerous Method is currently in theaters, and while his next film Cosmopolis is still in post-production without an official release date, a Toronto International Film Festival is now looking likely thanks to some interesting news from up north.
With the help of the Canadian government, the festival (TIFF) is planning a large interactive retrospective of Cronenberg's work; the grant proposal for government funding was called "The Worlds of David Cronenberg: An Augmented Reality Game." A what? Well, at it's most basic, an ARG is essentially any game where the real world is augmented by a computer generated sensory experience. Here's a basic example of the principle at work in the trailer for Sony's Reality Fighters on the PS Vita.
Pretty awesome right? Now, imagine that gaming experience extrapolated online and onto multiple platforms, including social media tools and locative services (like GPS), and utilizing the latest 3D modelling technology in order to recreate the characters, narratives and worlds of David Cronenberg's films. And you get to use all this advanced tech in what the TIFF proposal describes as "stylized social-media meets psychological-thriller game play."
The job posting on the TIFF website (for a "Project Manager, David Cronenberg Augmented Reality Game") offers a few more important details about the project, including what appears to be the actual title of the game - "Body/Mind/Change." - as well as their projected development schedule. The post says that the game will be launched in phases with playable content ready for September 2012. I don't think it's a coincidence that TIFF is hoping to have this Cronenberg ARG at least partially ready for the Film Festival next fall. The game should be completed in its entirely by the end of 2013.
Could you possibly think of a more fitting tribute (or retrospective) for the man known for his exploration of the mind, the body and our ever changing and immersive relationship with technology than this? The last screenplay Cronenberg wrote himself was eXistenZ. A natural profession of the ideas he explored in Videodrome, eXistenZ is about the future of gaming as well as the accompanying loss of agency and blurring reality that comes with the exploration of virtual worlds achieved through a marriage of biology and technology. Well, gaming may not have come that far yet, but we'll all get a chance to immerse ourselves in the fantastical, deranged and oddly beautiful worlds that David Cronenberg has created over the last 40 years. I don't fully know what to expect, all I know is I can't wait to find out more... but I'm not getting a bio-port.
Here's the full description of the project from the Government of Ontario website,
Your Daily Blend of Entertainment News
Thank you for signing up to CinemaBlend. You will receive a verification email shortly.
There was a problem. Please refresh the page and try again.