David Cross Rants Again About Alvin And The Chipmunks On Conan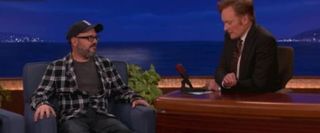 Those who go to bed before the late night talk shows air often miss out on some of the funniest, most interesting and even telling industry anecdotes because, well, not everyone always stays on script. On rare occasion, a movie star or starlet might let a nugget of truth slip from their mouth during said interviews, even admitting that they hate the film they're supposed to be plugging. Or, if you're David Cross, you can spend most of the interview purposefully bashing your latest project. Alvin and the Chipmunks: Chipwrecked might not be the "Mona Lisa," but is it worth this level of vitriol from Cross?
After telling the audience that shooting the film was his worst professional experience not to mention that they shouldn't see it, David Cross explains the circumstances that could easily have allowed a stand-in to perform the busy actor's scenes on the week long cruise shoot.
I can even understand his reasoning and where some of the animosity is coming from but is this venom being spewed just for laughs? Or is he actually being spiteful just because he was 'forced' on the week-long cruise by the one of the producers? Although he manages a few of the former, I'd say the rant was definitely fueled by the latter. In fact, the shtick does quite well, even making Conan laugh, until he starts bringing up Jewish stereotypes when talking about the offending producer.
Conan clearly becomes uncomfortable and switches gears to Cross' other project, the hilarious IFC sitcom The Increasingly Poor Decisions of Todd Margaret. It's not that what David Cross says is really so terrible. He is actually very careful in the selection of his words ("What people think about when they think negatively about Jews"), but there are so many other ways to describe someone being an unreasonable bitch (see). I didn't find the clip offensive by any means, most of what he says is funny and refreshingly honest. However, there is a part of me playing the world's smallest violin for the comic being 'forced at legal point' -- paid -- to be on a week long cruise. Also, I've heard his comedy so it's not like a little controversy is surprising. Cross was born into a Jewish home but now identifies as an atheist (sounds familiar).
Conan airs Monday-Thursday 11 p.m. ET on TBS. The second season of The Increasingly Poor Decisions of Todd Margaret kicked off last week on IFC and the second episode airs Friday, January 13 at 10:30p.m. on IFC. Oh, and here's our review of Alvin and the Chipmunks: Chipwrecked.
Your Daily Blend of Entertainment News
Thank you for signing up to CinemaBlend. You will receive a verification email shortly.
There was a problem. Please refresh the page and try again.