David Fincher's Gone Girl Added Neil Patrick Harris... And Tyler Perry??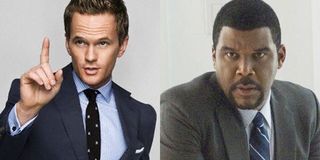 The cast of Gone Girl is fleshing out and getting more interesting-- and way weirder-- than we ever would have guessed. First up Rosamund Pike, named recently as director David Fincher's top pick for the lead role, has officially signed on according to The Hollywood Reporter. On top of that, two more actors are being eyed for supporting parts: beloved Tonys host and all-around entertainer Neil Patrick Harris.. and Tyler Perry.
Cue the record scratch noise! Perry, who has built an incredible empire with his series of films, TV shows, stage plays and iconic role as Madea, has only acted in a handful of films that he didn't direct, including a cameo in J.J. Abrams' Star Trek and an ill-fated lead turn in last year's critically savaged Alex Cross. After that movie flopped badly last year Perry seemed perfectly happy to return to producing some movies and directing his own, entirely on his own terms. But now he's back to acting, and teaming up with David Fincher?? Listen, Gone Girl is a novel that's completely crammed with twists, but this is wilder than just about anything that Gillian Flynn wrote.
As you might remember from last summer when every single person you knew was tearing through the book, Gone Girl tells the story of a terrible marriage between Amy (Pike) and Nick Dunne (Ben Affleck), who are already failing to get along when Amy suddenly disappears, and Nick becomes the prime suspect. At first the story is told both from Nick's perspective, as he copes with the realization that she's gone, and in flashbacks from Amy's diary, in which we see how their relationship starts and when things really start to go south. There is a gigantic twist in the middle of the book that changes how we see everything that comes after… and that potentially brings in the characters Harris and Perry might play. The best idea I can come up with is that Perry would play one of the detectives who helps Nick in his attempts to find Amy after her disappearance. Harris seems incredibly well-suited to a rich ex-boyfriend figure who shows up late in the book, but saying much more about the role would be unfair. Just say that Harris's famous suit-wearing skills could serve him well in the role.
David Fincher has a knack for casting his films, able to turn unknowns into stars, bring performances we never expected from the likes of Brad Pitt and Jake Gyllenhaal, and turn characters you wouldn't have thought twice about into someone fascinating-- just think of that opening scene in The Social Network and the risk of Rooney Mara's character becoming a throwaway. Based on Alex Cross and his Madea performances I can't possibly imagine what Fincher sees in Perry, particularly for fitting into the grim, fast-paced world of Gone Girl. But haven't we learned by now that it's smart to trust him?
If you're a fan of the book, share your own casting speculation in the comments. Gone Girl is set to begin production this fall.
Staff Writer at CinemaBlend
Your Daily Blend of Entertainment News
Thank you for signing up to CinemaBlend. You will receive a verification email shortly.
There was a problem. Please refresh the page and try again.