Deadpool Could Have A Boyfriend In The Future, According To Ryan Reynolds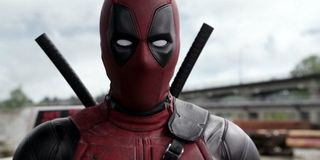 We're still a few days away from Deadpool hitting cinemas, but it's already garnered a reputation as the most controversial instalment of the comic-book genre yet. But, the creative team behind the adaptation wouldn't be against pushing the envelope even further, with Ryan Reynolds admitting that he'd love to see Wade Wilson/Deadpool with a boyfriend.
Ryan Reynolds, who after originally portraying a rather lackluster version of Deadpool in X-Men Origins: Wolverine, has been a key player in bringing an authentic adaptation of Deadpool to the big-screen, made this admission (via Variety) while he was out promoting the film's imminent release, insisting that the character is perfectly placed to break down this boundary.
It's clear that Ryan Reynolds (who not only takes the titular role in Deadpool , but is onboard as a producer, alongside Simon Kinberg and Lauren Shuler Donner), director Tim Miller, and writers Paul Wernick and Rhett Reese will have plenty of opportunities to explore the character's sexuality in further instalments.
That's because 20th Century Fox have already greenlit Deadpool 2, since Deadpool is set to have a rather impressive box office return once it hits theaters on Friday. And out of all the other superheroes that are currently in the cinematic ether, Deadpool is probably the most likely to explore his sexual horizons.
In fact, there are actually numerous homoerotic tips of the hat throughout Deadpool that suggest the character is more than up for a man on man romantic rendez-vous. But who could Deadpool end up becoming romantically entangled with? Maybe Wade Wilson will decide to take either his friendship with T.J. Miller's Weasel or Stefan Kapicic's Colossus to the next level. Or he could instead look to pair off with one of the X-Men in a crossover. That wouldn't make die-hard fans angry in the slightest.
Unfortunately, for Deadpool to begin a new relationship it would probably put his relationship with Morena Baccarin's Vanessa Carlysle in serious harm. That would be rather heart-breaking to see, because Baccarin and Reynolds' camaraderie and energy is a particular highlight of Deadpool. Alongside all of the violence and vulgarity, obviously. However, as Deadpool depicts, Carlysle is rather open to most sexual endeavours, so it might actually make their relationship even stronger. Somehow.
You'll get to appreciate the above in all of its splendour when Deadpool finally hits cinemas this Friday.
Your Daily Blend of Entertainment News