Deadpool Is Killing It At The Box Office, Get The Details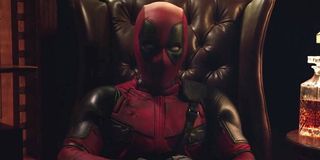 Remember when FOX completely fucked up the character of Wade Wilson a.k.a Deadpool almost a decade ago? No? Yeah me neither, that's because Deadpool has just hit theaters and completely washed the foul taste of X-Men Origins: Wolverine out of my mouth. Tim Miller's Deadpool has become a complete hit for FOX and Ryan Reynolds, far surpassing anyone's expectations. Despite the film's relatively obscure hero and hard R-rating, it has become pretty much a smash box office success overnight. Not only is the movie on track to earn an insane profit – like Deadpool level insane – it also as already shattered box office records.
A new report from THR indicates that Deadpool opened to an incredible $47 million on Friday, and is currently on track for a three-day gross of $117 million. By the end of President's Day weekend it's expected that Deadpool will have drawn in more than $130 million at the box office. To put those numbers in perspective, that's one of the biggest openings of all time for any superhero movie ever, and hands down the largest opening for any R-rated movie on record. We almost feel bad for saying this, but Zoolander 2 and How to Be Single don't even stand a chance this weekend.
Making things even more impressive, Deadpool was produced on a shoestring budget of $58 million, so all involved stand to make even more money as a result. Basically, Deadpool is crushing it, as the kids say. Considering the financial success of the film, maybe after all of this is said and done he will finally be able to afford a nice place and quit rooming with Blind Al.
While Deadpool has a rabid fan base that has been dying to see him brought to life on the big screen, the fans alone aren't big enough to draw in those sorts of numbers. Deadpool's marketing campaign deserves much of the credit for getting people excited about the film. Between hilarious interviews, irreverent promo videos, and creatively capitalizing on Valentine's Day weekend, Deadpool has taken every opportunity to show the public that it's not a typical superhero movie, and as such deserves our attention.
We really cannot understate the importance of Deadpool's financial success. For an R-rated superhero movie to do so well at the box office bodes well not just for Ryan Reynolds and this particular character, but also for other characters that could benefit from such a rating. There's huge pool of iconic heroes and villains out there that had been previously deemed unmarketable due to their more adult nature – ranging from Lobo, to The Punisher, to Moon Knight. If these heroes market themselves as well as Deadpool, then we may start to see an influx in R-rated comic book adaptations.
We will keep you up to date regarding the performance of Deadpool as it continues to destroy the box office. At the end of the day we really only have one thing to say: welcome back Wade, we missed you. Deadpool is currently in theaters.
Originally from Connecticut, Conner grew up in San Diego and graduated from Chapman University in 2014. He now lives in Los Angeles working in and around the entertainment industry and can mostly be found binging horror movies and chugging coffee.
Your Daily Blend of Entertainment News
Thank you for signing up to CinemaBlend. You will receive a verification email shortly.
There was a problem. Please refresh the page and try again.