Deadpool Did Surprise Screenings, Here's What People Are Saying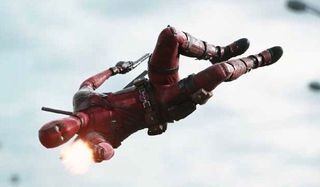 We're rather psyched for Deadpool around these parts, and as we get closer and closer to the release date, we're bordering on giddy. Though the Merc with the Mouth's solo big screen adventure hits theaters in less than a month now, which isn't very long to wait at all, some fans got an early look at an unfinished cut of the film as 20th Century Fox staged surprise screenings in New York and Los Angeles. The first reactions out of these shows are just hitting the airwaves, and so far they're over the moon.
When fans scored tickets to a handful of special screenings of as-yet unseen Deadpool footage, they wound up getting much more than they bargained for. Instead of just a few new clips or a even a look at a new scene or two, attendees at these screenings were treated to the entire movie (still marginally unfinished), as well as the presence of key members of the cast and crew. Granted, the unexpected nature of these screenings may color the initial reactions somewhat, but the general gist of what's coming out of these shows on both coasts is that Deadpool freaking rules and fans seem like they're more than satisfied.
One of the biggest concerns going into Deadpool was how the violence, sex, and profanity would impact the film—the source material doesn't exactly lend itself to the standard superhero PG-13 approach. These worries were put to bed early on as star Ryan Reynolds, director Tim Miller, and others assured fans it would be an R-rated affair, and that red band trailer certainly backed these claims up. It's also apparently over-the-top enough that it won't be able to screen in China, at least not in its current form, which is promising.
From these early responses, it certainly sounds like the cast and crew did the Merc with the Mouth proud. People are already so stoked on Deadpool that they want to see it again.
If you were one of the lucky people who were privy to one of these screenings, good for you, we're not totally jealous or anything. That's a lie, we are very jealous. The good news, however, is that the rest of us only have a few more weeks to wait before we see Deadpool for ourselves as it opens on February 12, just in time for Valentine's Day. How many of you are already planning a romantic holiday excursion to check this out?
Your Daily Blend of Entertainment News