Debra Granik Working To Bring Pippi Longstocking Back To The Movies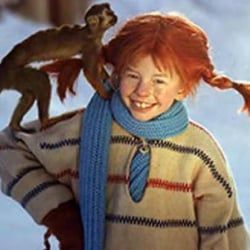 In an article published over the weekend in The Los Angeles Times, Rebecca Keegan gives a wonderful rundown of the new crop of young female heroines at the movie, from Tim Burton's Jabberwocky-slaying Alice in Alice in Wonderland to the scripture-spouting, gun-wielding Mattie Ross in True Grit. There's another heroine in the rundown who actually comes from a female director-- the fiercely determined Ree Dolly of Debra Granik's Winter's Bone-- and it turns out Granik isn't quite done with telling stories about strong young women.
Nestled in the article is the detail that Granik and her producing partner Anne Rosellini are working on a treatment to star Pippi Longstocking, the heroine of Astrid Lindgren's series of novels. Pippi's not just a tomboy with a smart mouth and a sense of adventure, but she's got superhuman strength and is more clever than pretty much everyone around her. The character has been part of pop culture for decades but actually has a new relevance thanks to Stieg Larsson, who based the fierce Lisbeth Salander of the Girl With The Dragon Tattoo books on Pippi.
The last Pippi Longstocking movie came out in 1988-- I remember it very, very well from childhood-- and her last appearances onscreen at all was in 1997, when an animated series aired on HBO in the United States and elsewhere in other countries. But everyone still knows the character and she's ripe for a come back-- and who better to make it happen than Granik, riding high after the success of Winter's Bone and knowing maybe better than anyone how to tell a story about a fascinating young girl. If things keep up like this, Mattie Ross and Ree Dolly will be only the beginning.
Staff Writer at CinemaBlend
Your Daily Blend of Entertainment News
Thank you for signing up to CinemaBlend. You will receive a verification email shortly.
There was a problem. Please refresh the page and try again.