Demolition Trailer: Watch Jake Gyllenhaal Cope With His Wife's Death, Get Pissed About M&Ms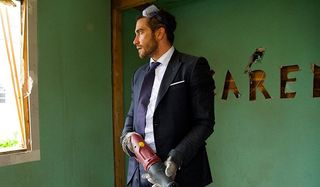 Jake Gyllenhaal is easily one of Hollywood's most reliable stars. Even when the movie he's a part of isn't all that great, he still finds a way to be stellar and captivating. Judging from the recently released trailer for Jean-Marc Vallee's Demolition you'll find below, it looks like we'll have another yet another tremendous performance arriving in the coming months.
The fall film festival season has begun, and while Demolition isn't actually scheduled to be released by Fox Searchlight until the first half of next year, the film is getting a special world premiere at the Toronto International Film Festival later this month. This means that we can't expect the movie to be a part of this year's Academy Award race, but we may soon learn if the feature will wind up being one of the best things we see in 2016.
Based on an original screenplay by up-and-coming filmmaker Bryan Sipe, Demolition stars Jake Gyllenhaal as Davis Mitchell, a successful investment banker who sees his entire life thrown for a loop when his wife is killed in a car accident. In shock immediately after the incident, he begins writing a complaint letter to a vending machine company about a pack of M&Ms... and this spirals into him penning a series of notes about his personal life and feelings. His strict father-in-law (Chris Cooper) does his best to try and get Davis back to reality - but instead the guy just keeps slipping. Ultimately the protagonist decides that the only way to get beyond his past is to completely destroy everything in his world and just start rebuilding.
It's a bit odd that Jake Gyllenhaal finds himself going through yet another "I lost my wife" story so soon after dealing with a similar narrative device in the recent boxing drama Southpaw, but we have big hopes that Demolition won't be the same trope-fest that film turned out to be. The good news is that director Jean-Marc Vallee - with both Dallas Buyers Club and Wild now on his resume - has shown impressive skill when it comes to unique drama and character-driven story, so our expectations are definitely raised.
We'll be hearing buzz on Demolition very soon, as it is actually set to play at the Toronto International Film Festival this Thursday. With it's April 8, 2016 release date, it will still be a while before regular movie-goers will have the opportunity to go and see it - but the good news is that more Jake Gyllenhaal is right around the corner. In just a little over two weeks, he will be seen as part of the absolutely incredible ensemble that makes up Baltasar Kormákur' Everest - which hits theaters on September 25th. Stay tuned for more updates!
NJ native who calls LA home; lives in a Dreamatorium. A decade-plus CinemaBlend veteran; endlessly enthusiastic about the career he's dreamt of since seventh grade.
Your Daily Blend of Entertainment News
Thank you for signing up to CinemaBlend. You will receive a verification email shortly.
There was a problem. Please refresh the page and try again.