Zoolander 2 Will Bring Back This Popular Character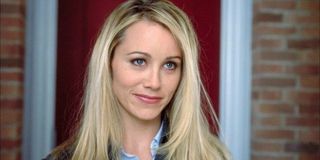 Zoolander 2 has been in the pipeline for quiet some time now, and while Ben Stiller will almost definitely return, there are some big other question marks. We all hope Owen Wilson and Will Ferrell will be back to reprise their roles from the original - but now we know at least one more star of the first movie will be back. Christine Taylor has confirmed that she will be back to play Matilda Jeffries in the sequel. This is hardly a surprise given that she is Ben Stiller's wife long-time wife. Nepotism anyone? I kid.
During a recent interview with Entertainment Weekly, Christine Taylor revealed that she has definite plans to return for Zoolander 2. However, she also made sure to remain very coy about her place in the potential sequel. "I can tell you that I'm involved, but that's all I can say," Taylor explained. "I can tell you it's happening, but I can't tell you where Matilda's at and where their relationship is at. It's all top secret!"
It makes sense that Christine Taylor would be returning to the fold with Zoolander 2. At the end of the original, Matilda and Ben Stiller's Derek Zoolander decided to begin a family, and she even gave birth to their first child, Derek Jr. In fact, their child even showed signs that he would follow his father down the catwalk. Over the course of Zoolander, Matilda went from judging the dim-witted titular male model to helping him stop the assassination of the Prime Minister of Malaysia, to then falling deeply in love with him. This was all while Owen Wilson's Hansel McDonald, Will Ferrell's Jacobim Mugatu and Milla Jovovich's Katinka Ingaogovinanana jolted in and out of the film and provided mirth by the barrel full.
Despite the fact that Christine Taylor played the straight women to the cavalcade of comedic talent in Zoolander, she did so with such charisma and warmth that she was one of the main reasons for the film's long-lived success. In fact Zoolander 2 has taken a giant leap with her confirmed presence, and if they can line-up the return of Stiller, Wilson, and Ferrell then anticipation ahead of its release will automatically increase tenfold. You can check out arguably Zoolander's funniest moment involving Christine Taylor, Owen Wilson and Ben Stiller below. Never has ill-informed ignorance been so hilarious.
But what is the current situation of Zoolander 2? Well, at the moment, we're not too sure. Back in September, Will Ferrell confirmed that a read-through of the sequel's script would be taking place in the near future. Then in November it was reported that Penelope Cruz would join the cast - but we haven't heard too much more since. Ben Stiller has previously teased that Ferrell and Wilson would be returning alongside himself for the film, which he noted would be set mostly in Europe. But until all of this is confirmed we'll just have to wait patiently. Whose up for a gasoline fight in the meantime?
Your Daily Blend of Entertainment News