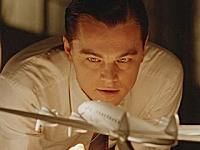 Actors playing writers is hot in Hollwood right now, and it now looks like Leonardo DiCaprio is about to pick up a pen and pretend to create. Variety says his production company, Appian Way has inked a deal to move forward on a biopic of renowned writer-shrink Timothy Leary.
Leo has been hot to make a Leary movie for years, so it's likely that he'll play the lead. The movie will zero in on Leary's life between his enrollment at West Point in the 40s and his prison escape in the 70s. It seems his life was one of extremes. Leary was mostly known as a drug guru (in particular he was a major LSD advocate), so expect plenty of controlled substances present in the script. Maybe this will be Leo's Fear and Loathing in Las Vegas. I don't mean that as a good thing. Like most drug movies, Fear and Loathing is almost unwatchable.
Appian has hire screenwriter Craig Lucas and Leary archivist Michael Horowitz to develop a screenplay. They'll probably need something on paper before they can start looking for someone to direct.
Your Daily Blend of Entertainment News
Your Daily Blend of Entertainment News
Thank you for signing up to CinemaBlend. You will receive a verification email shortly.
There was a problem. Please refresh the page and try again.