Diary Of A Wimpy Kid 3 Is Already In The Works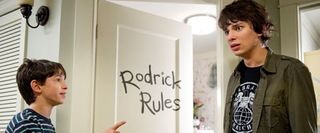 It's quite clear that producers Nina Jacobson and Brad Simpson know what to do when they have a potential franchise in the palm of their hands. The duo brought us the very first book-to-screen adaptation of Jeff Kinney's beloved book, Diary of a Wimpy Kid, in March of 2010 and they're already gearing up to release the second on March 25th, barely a year after the release of the original. Jacobson and Simpson clearly had a plan in mind should the first film be a success and, according to one of the film's stars, Devon Bostick, the same is true this time around.
During our one-on-one interview with Bostick, who plays Greg's bullying older brother Rodrick, Wimpy Kid 3 came up a number of times. He had no problem spilling details on what the third film would entail, but watched his words when the concept of being contractually obligated to doing another film arose. Still, Bostick is confident a third film will happen; in fact, he's 90% sure of it and guaranteed that the producers are already working on the plan. Check out what he had to say about the potential of Diary of a Wimpy Kid 3 in the video below.
Staff Writer for CinemaBlend.
Your Daily Blend of Entertainment News
Thank you for signing up to CinemaBlend. You will receive a verification email shortly.
There was a problem. Please refresh the page and try again.