Did Ghost In The Shell Consider Making Scarlett Johansson Asian?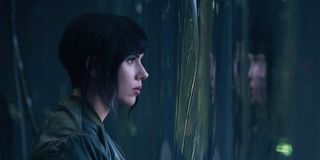 Paramount's live action adaptation of the manga Ghost in the Shell has been a source of controversy over the last several years, primarily due to Scarlett Johansson being cast as the lead despite the character being an Asian woman. Yesterday, the studio released its first look at the actress as protagonist Motoko Kusanagi, but the complaints didn't subside in the slightest. Now there's word that the production may have considered making Johansson look more Asian via visual effects for the movie.
According to ScreenCrush's sources, after the controversy surrounding Scarlett Johansson's casting in Ghost in the Shell hit, Paramount and Dreamworks commissioned a company to come up with some visual effects tests that would "shift her ethnicity" during post-production. Johansson's Motoko Kusanagi was reportedly the main focus for the test, although it was apparently done without her knowledge. Regardless, this idea was soon "rejected." When asked for comment, Paramount acknowledged that a visual effect test was run, but denied it was for Johansson, instead saying it was for a background actor in a specific scene.
While we may never know for sure whether Scarlett Johansson was actually subjected to these visual tests, the very idea of Ghost in the Shell trying to change her ethnicity is troubling. Johansson's casting is one of the more recent examples of "whitewashing," i.e. when white actors are cast in non-white roles. While the story mentions that this was another example of "beauty work," the progress that adjusts an actor's physical appearance to make them look younger or more fit, the outcry from this would have been significant, especially in a time when more diversity is being called for in Hollywood so that non-white actors can get proper representation.
Despite Scarlett Johansson's popularity, Ghost in the Shell has come under fire for not casting an Asian actress in a role that originated from Japan. That being said, changing Johansson to look non-white in post-production would have just made the situation worse, and definitely seems badly reactionary rather than something that would be planned ahead of time. If they wanted to have an actress who looked Asian for the movie, casting an Asian lead would have been more practical than throwing all those visual effects on Johansson.
Based on the original manga, Paramount's Ghost in the Shell adaptation will follow Johansson's Motoko Kusanagi (who is referred to here as The Major), a cyborg who leads intelligence agency Sector 9 in battling cyber crime. They'll face their greatest threat yet when a new enemy tries to destroy the Hanka Robotic's cyber technology. The movie's cast also includes Pilou Asbæk as Batou, Michael Pitt as Hideo Kuze, Takeshi Kitano as Daisuke Aramaic and Juliette Binoche as Dr. Ouelet.
Ghost in the Shell hits theaters on March 31, 2017.
Connoisseur of Marvel, DC, Star Wars, John Wick, MonsterVerse and Doctor Who lore. He's aware he looks like Harry Potter and Clark Kent.
Your Daily Blend of Entertainment News
Thank you for signing up to CinemaBlend. You will receive a verification email shortly.
There was a problem. Please refresh the page and try again.