Did J.J. Abrams Just Reveal The Empire's Presence In Star Wars 7?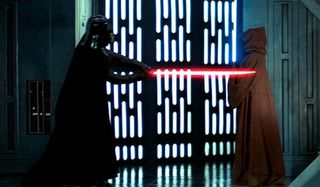 J.J. Abrams has been a surprisingly active Twitter user during the production of Star Wars: Episode VII. In fact, it's almost as though he's trying to think outside of the mystery box with this film and slowly tease more details than he's used to giving. We've seen hints towards everything from the Millenium Falcon to the presence of more robotic hands in his multi-million dollar blockbuster. And it looks like he's at it again, as he's used Apple's recent announcement of the AppleWatch to tease the possible return of a very familiar setting.
Turning to the Bad Robot Twitter feed, we see that JJ Abrams has yet again decided to troll us with a vague message linked to the latest Apple product presen...hey wait?! Doesn't that background look a little familiar? Where have I seen that vague lighting pattern before on such a surface?
That's right, kids! It looks that while the Empire has been crushed for the most part, its sense of interior design has survived. Now, the biggest bit of speculation that comes to mind based on this light pattern is the idea that we might see a new Death Star, or another weapon of mass planetary destruction, in Star Wars: Episode VII. Seeing as Abrams is fond of destructive forces that can wipe out an entire planet (See: Star Trek), and has shown a serious love for classic Star Wars, this thought may not be too far off.
The skeptic in me doesn't think that's the case, however. True, Star Wars: Episode VII takes place 30 or so years after Return Of The Jedi and that would leave plenty of time in the Star Wars universe to build several Death Stars to replace the one destroyed. But that leaves the question: if that were the case, wouldn't someone have already noticed that a serious storm was brewing much sooner than 30 years later? My more logical and "scaled back for an initial installment of a new trilogy" theory would be that this is indeed an Imperial ship, but it's only a Star Destroyer. A Star Destroyer that holds enough Stormtroopers, governmental figures, and armaments to start a war against galactic peace and prosperity, that currently holds strong.
We're not going to get any answers anytime soon, but with JJ Abrams teasing out clues to Star Wars: Episode VII's content at a pretty satisfying interval, we at least know we'll get some more fun and interesting clues towards what's to come. The film will arrive in our galaxy on December 18th, 2015. First Apple developer to create a countdown app gets internet notoriety!
Senior Movies Contributor
CinemaBlend's James Bond (expert). Also versed in Large Scale Aggressors, time travel, and Guillermo del Toro. He fights for The User.
Your Daily Blend of Entertainment News
Thank you for signing up to CinemaBlend. You will receive a verification email shortly.
There was a problem. Please refresh the page and try again.