Did You Spot These Other Disney Easter Eggs In Frozen?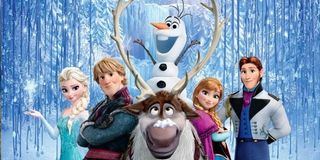 When Disney's marvelous movie musical Frozen hit theaters, it proved a feast for the ears and eyes. Frankly, between all the spectacular ice magic and jaunty song numbers, it was all a bit overwhelming. So it's totally understandable if you missed some of the cleverly hidden Easter Eggs tucked within the film. Earlier this month, we shared with you the cameo Tangled couple Eugene and Rapunzel made at Elsa's coronation, but Disney's pulling back the curtain to reveal even more hidden gems!
On the Disney blog, Disney animators have not only copped to the Tangled crossover, but also shared screengrabs revealing allusions to Wreck-It Ralph, Mickey Mouse, and a far more subtle Tangled nod. Of course Disney has a long history of tying its movies together with little visual cues, but how did they bring the video game worlds of Wreck-It Ralph into the fantastical realm of the "Snow Queen"-inspired Frozen? Take a look at the image below and see if you can spot it.
You might have looked at the bust and thought, 'Nope. That doesn't look like Ralph or even Fix-It Felix.' Well, shift your gaze right to those chocolates that Anna is eager to stuff in her face. In this moment from "The First Time in Forever," we see some treats straight out of the candy-coated world of Sugar Rush! This is knowing nod to Frozen screenwriter and co-director Jennifer Lee, who contributed to Wreck-It Ralph's script.
The next one is Mickey's cameo, and it's WAY harder to spot. In the scene where a ice-caked Anna shuffles into the Wandering Oaken's Trading Post and Sauna, Mickey Mouse makes an appearance. Can you see him?
If you said he's on the bottom shelf, tucked behind some brick-a-brack, well done! Of course, he also appeared before the film in the short "Get a Horse!"
This last one only the most fanatical Disney devotee might have spotted. In "For the First Time in Forever," Anna is surveying a series of paintings, imagining how love might play out, and she interacts with this painting.
The Disney blog tells us it was inspired by "The Swing" by Jean-Honoré Fragonard. It's Disney version was made as part of the development of Tangled, but fit so nicely into the world of Frozen that it found a home in the castle of Arendelle.
Staff writer at CinemaBlend.
Your Daily Blend of Entertainment News
Thank you for signing up to CinemaBlend. You will receive a verification email shortly.
There was a problem. Please refresh the page and try again.