Disney's Live-Action Jungle Book Drops Its First Footage, And It Is Stunning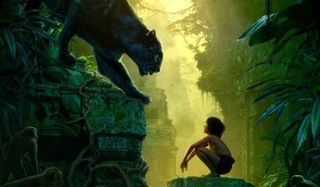 When Disney dropped our first good look at what's to come in Jon Favreau's live-action Jungle Book at the D23 Expo, we were left with our jaws dropped. Well now, they've given us even more to get excited about, as they just shared the first footage into the stunning jungle setting of the upcoming feature. Take a look:
Of the images Disney has shown us prior to this footage, we weren't sure how realistic the live-action was going to look. The two images gave somewhat realistic portrayals of Mowgli and Bagheera, but still the touch-ups and editing of the photos gave them a surreal, dreamy aura. Well with this current footage, we are still seeing how dreamy this jungle is going to be, but in a much more realistic setting. With a quick glimpse of little Mowgli, too, Walt Disney Studios showed just enough in this short Vine to let us get a feel for what a live-action version of Jungle Book has the potential for.
Rudyard Kipling's 1894 collection of stories, has seen a number of adaptations over the years. From the classic Walt Disney animated film version in 1967 that taught us all about the "Bare Necessities" all the way to Chuck Jones's made-for-TV cartoons and even a number of stage adaptations. But the coming years prove to be some of the most exciting prospects for the classic stories. Both Walt Disney and Warner Bros. are developing live-action versions of the story, both different, but to include the iconic characters that many people over the years fell in love with.
Disney's live-action/CGI adaptation has a screenplay written by Justin Marks, new to the game of feature length films, but most impressively, Jon Favreau has signed on to direct. The actor/director has been making his name in the director's chair with films such as Elf, Iron Man and Iron Man 2, and most recently the critically-acclaimed Chef. Disney's Jungle Book has also lined up a stellar cast which includes Bill Murray as Baloo, Ben Kingsley as Bagheera, Scarlett Johansson as Kaa, Idris Elba as Shere Khan, Christopher Walken as King Louie, Lupita Nyong'o as Raksha and Neel Sethi as Mowgli.
The film was announced a couple years ago, but had taken some time to pull together a cast, and only recently begun to move forward at full speed. Favreau has promised to maintain some of the original qualities of the story, but also hopes to add some mythic elements along with a different overall tone. From this teaser we can see a sense of mystique forming. But for those attached to the Disney animated version, there will be some nostalgia such as Baloo's "The Bare Necessities" being sung by Bill Murray.
The Jungle Book plans to hit the big screen on April 15, 2016, but be sure to stay tuned for more gorgeous footage.
Your Daily Blend of Entertainment News