Disney's Zootopia Has Put Together A Fantastic Cast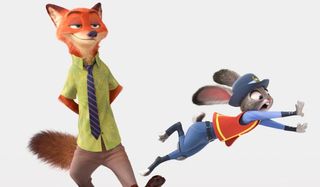 Riding high on the wave of critical praise and audience hype that Big Hero 6 brought them in 2014, Disney is getting ready to double down on its animated magic with Zootopia. A tale of a crafty fox thief and a by-the-book bunny cop trying to solve a mystery in a town that's wilder than you could imagine, Zootopia has a cast of colorful characters of all shapes and stripes. Which means that they'll need a cast of actors just as diverse to bring them to life.
Recently, the full cast list (opens in new tab) was released, and we've got the entire line-up of talent, as well as who they will be playing, right here – thanks to the good folks at Disney! Ladies and gentlemen, here is your Zootopia line-up.
Playing the role of the thieving, yet charismatic fox - Nick Wilde - is Jason Bateman. Better known for his work in comedies such as Arrested Development and his recent directorial debut, Bad Words; Bateman took a more dramatic turn this summer with Joel Edgerton's thriller The Gift. Jumping back into the world of comedy, Bateman's Wilde is one half of Zootopia's main pair.
Eager to please, and ready to make a name for herself, Officer Judy Hopps is the better half of the equation. As the first bunny on Zootopia's police force, she's made her parents more worried than the criminals she's hunting. Judy is voiced by Ginnifer Goodwin, who's already a proud member of the Disney family as she's currently playing Snow White on ABC's Once Upon A Time
As the chief of police in Zootopia, Idris Elba will be commanding a force of hippos, rhinos, and elephants as Chief Bogo. As the Cape Buffalo in charge of protecting law and order in the animal kingdom, Elba will be making a complete 180 from his last major motion picture role – as the ruthless Commandant in Cary Joji Fukunaga's Beasts Of No Nation.
If we were to tell you that we weren't more than a little concerned about Mayor Lionheart being the secret villain of Zootopia, then we'd be lion – er, lying. With the look of a typical politician, and the talented Academy Award winning pipes of J.K. Simmons bringing him to the screen, there's an equal number of reasons that we'd trust him with our lives, as well as keep a closer eye on our sheep.
Speaking of sheep, meet the one that was hired to keep Mayor Lionheart in check, Assistant Mayor Bellwether! If that face is making you think of Jenny Slate, then you should work for Disney, as that's exactly who's providing the voice of this gentle, but tough, civil servant of the people. Slate has been a voice in both The Lorax as well as TV's Bob's Burgers, and will also be heard in next summer's The Secret Life Of Pets.
Here's an interesting little bit of information: Alan Tudyk is going to be in his fourth Disney film in a row, and his latest character calls back to his most famous role in the Disney canon. As the slippery Duke Weaselton, Tudyk will not only be playing one of the usual suspects that Officer Hopps finds herself in pursuit of, he's also paying tribute to the Duke Of Weselton from Frozen.
Who doesn't love a gigantic, friendly looking jungle cat? Whoever they are, they should steer clear of the extremely friendly looking Officer Clawhauser, who's voiced by Nate Torrence. Torrence might not seem familiar to you, unless you've seen his various roles in shows like Hello Ladies or Studio 60 On The Sunset Strip, but he's a veteran of such Disney Channel animated as Star vs. The Forces Of Evil and Motorcity.
Sometimes, it's not the size of the fox, rather the power of that fox's growl that gets the job done. With Tommy "Tiny" Lister bringing life to Finnick, the fennec fox in Zootopia, that growl is going to be quite intimidating. But as we learned in his pivotal cameo in The Dark Knight, it's best not to let his rough exterior fool you. Lister brings a Disney pedigree of his own, as he was a part of the animated series Fish Hooks.
With her husband missing, and Judy Hopps being the only officer who will take her case, Mrs. Otterton looks like she won't be having a fun time in Zootopia. Her grounded plot-line is welcome as a complementary factor that pairs well with the film's obvious humor, and Academy Award winner Octavia Spencer will bring the requisite warmth and heart to the role - in her animated debut.
Being the concerned parents that they are, Bonnie & Stu Hopps are worried that their daughter's new profession in the city will clash with her upbringing in the country of Bunnyburrow. With Bonnie Hunt and Don Lake voicing these characters, respectively, their shared experience on The Bonnie Hunt Show will prove invaluable as a pair. Though Hunt has the slight advantage of being a Pixar stalwart since A Bug's Life.
You might not know the name Raymond Persi off the top of your head, but his performance as Flash - the "fastest sloth at the DMV", comes on the heels of a bit part in Wreck-It-Ralph. While Flash isn't exactly the same as a zombie in a villain support group, you can bet that Persi has the slow, yet effective, delivery method down to a tee.
What's funny about Yax isn't the fact that he looks, and basically functions, as a hippie / zen guru in Zootopia. Instead, the really funny part about this character is the fact that he's voiced by Tommy Chong, half of the famed comedy team "Cheech And Chong." Now if you're a true Disney fan, you know that Cheech Marin already got his Disney cred voicing Ramone in Cars; so bringing his partner into the fold could mean some fun down the road.
Dr. Madge Honey Badger is the professional care-giver on call at Zootopia City Hall, which is probably a good thing – considering her voice is more than passingly acquainted with Disney's last medical professional – Baymax. Actor Katie Lowes, the voice of test pilot Abigail Callaghan from Big Hero 6, is the voice of Madge, which means she's also used to seeing anything a Disney animated universe could throw at her. Though you Scandal fans would know her better as Quinn Perkins.
Manchas is a veteran of the chauffeuring profession, running the town's most prestigious limo company. Which is funny, considering that voice actor Jesse Corti is a deeply entrenched member of the Disney family. With a voice acting resume as long as a country mile, it's good that he's playing a jaguar this time out, as he'd be able to run said mile pretty quickly. Previously Corti played legendary lackey Lafou – Gaston's best pal in Beauty And The Beast.
Rounding out the Zootopia cast is Jerry Bumbeaux Jr., an elephant who owns an ice cream parlor in the titular town. With such a big character, Disney has decided to go with a big personality to match, as John DiMaggio will be voicing this perturbed pachyderm. DiMaggio's is a voice you'll definitely remember, as he's voiced two of the biggest characters in modern animation: Bender from Futurama and Jake from Adventure Time.
Zootopia unleashes its comedic menagerie on March 4, 2016.
Senior Movies Contributor
CinemaBlend's James Bond (expert). Also versed in Large Scale Aggressors, time travel, and Guillermo del Toro. He fights for The User.