Ender's Game Comic-Con Panel Live Blog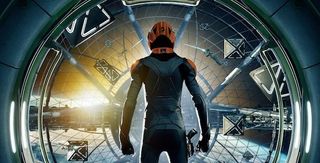 Summit is doubling up on futuristic adaptations with their SDCC panel this year, giving fans a look at both Ender's Game and Divergent. We're covering each film with a separate live blog. This is the live-blog for Ender's Game, which is based on a novel by Orson Scott Card and stars Asa Butterfield (Hugo) as Ender Wiggin, a gifted child who's recruited to attend a space-set Battle School where man is preparing other gifted children to fight in the anticipated war against an alien race called the Formics. Set to appear on the panel are stars Harrison Ford, Asa Butterfield, Hailee Steinfeld and Abigail Breslin, as well as producer Robert Orci and director Gavin Hood.
Here's the full description for the panel.
We're waiting for the EG panel to come out. In the meantime, Chris Hardwick has decided to stay on stage and interact with the stagehands changing out water bottles.
4:39 p.m. PST - Chris Hardwick starts announcing the panelists. Roberto Orci is filming the panel from up on stage, while Gavin Hood talks about how excited he is to be here. He's never seen anything like this. Asa Butterfield comes out onto the stage, along with Hailee Steinfeld. Hailee looks adorable. Harrison Ford comes out and, unsurprisingly, the crowd goes nuts. Ford picks his own seat and they move his name tag.
Clip time! Exclusive footage!
Alien invasion. Alien ships flying. Destruction and explosions. "There's greatness in you Ender. The world needs you." Cut to an eye. Big alien ship. Shuttle flying out into space. Rackham says he's not ready. Ender standing at the controls giving orders. "I've never seen everyone do this." Rackham asks Graff if he told him the truth. Glimpse of what looks like it could be battle room. People floating around. Ender waving his hands around controlling things while looking out at space and a giant planet (not Earth). Counts down three-two-one. Now!
4:45 - Hailee says this is the first time she's had to train for a film. She says they went to space camp in Alabama. They went through boot camp where they learned how to march and salute. They learned different cadences. She loved it. Harrison Ford says he was here last year. Hardwick asks him what drew him to the film. Ford says Graff is not so much Ender's mentor as he is Ender's manipulator. Hardwick apologizes profusely to which Ford jokingly says, in a dramatic voice, "I am never coming back here." He goes on to talk about the complex moral issues in the story. He talks about the book coming out 28 years ago and the issues of today, war and the manipulation of young people for their value of soldiers because of the their special skills and conceptual freedom is something that was really complex and interesting to him. He was delighted to be involved with playing a character that wrestled with these concerns and brought them into public consciousness.
4:49 - Hood says Ender's Game is a great, complex story. It's not a simple battle of good vs. evil or a just a big special effects movie. The characters aren't simple. They wrestle with their own perception of good vs. evil. He says he was blessed to have material that addresses issues that are profoundly important today. He talks about actors not being able to fake intelligence. Searching for the right Ender Wiggin took a while. Butterfield isn't sure how he got over working with Han Solo and Ben Kingsley. Hardwick suggests that Butterfield did it because he's British and they're slightly better than us.
4:52 - First fan question is about the Orson Scott Card controversy. Orci takes this question says they decided to use the attention the controversy has gotten to defend some of the LGTB community's rights. Talks about the efforts of all of the people involved in making the movie. The message of the book is tolerance, compassion and empathy. He says they're happy to embrace the controversy to say that they support LGTB rights.
4:54 - The fan from the Divergent panel who stepped up to ask a question about Ender's Game earlier has returned. He got a big applause from the crowd and asked about themes from the movie. Gavin Hood talks about leadership, how you lead others and how you lead yourself. He talks about moral position and translating those themes to the film. If he had one goal, it was to be true to the spirit of the story and the film.
4:57 - The cast got to keep a futuristic "wash kit" from the set. Fan asks Harrison Ford, "If Han Solo and Indiana Jones were to meet..." Hardwick was about to cut him off but then he said, "Oh, just do it, I want to know too." Question is, "Lightsabers aside, what would be there first words to each other?" Ford says, "Hi. How are you?" and then just sort of shakes his head. Next fan comes up and announces he's from Brazil. Hardwick remembers him from something her last year. Fan finally gets around to asks Ford a question. He asks if he thinks Han Solo would be a good soldier for Graff's army. Ford says he doesn't think Han Solo would be a good soldier in anybody's army. He's what people refer to as an independent contractor.
And the panel ends with the video. Couple things I forgot to mention earlier. There's a snippet in the video where Graf is asked what happens if there's nothing left of the boy. Ford answers, "What does it matter if there's nothing left at all," which I kind of think implies that Ender could be the price that needs to be paid to save mankind. We also see Ender ordering his soldiers to shoot below the ice. There's a quick scene where shots are fired upward through a mess of ice, hitting an alien spaceship that's hovering above it. Pretty exciting stuff!
Kelly joined CinemaBlend as a freelance TV news writer in 2006 and went on to serve as the site's TV Editor before moving over to other roles on the site. At present, she's an Assistant Managing Editor who spends much of her time brainstorming and editing feature content on the site.
Your Daily Blend of Entertainment News
Thank you for signing up to CinemaBlend. You will receive a verification email shortly.
There was a problem. Please refresh the page and try again.