Doctor Strange Just Cast A Mysterious New Character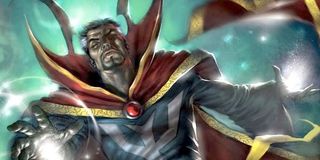 Marvel's first foray into the magical side of their cinematic universe, next year's Doctor Strange, has put together a fantastic cast full of incredibly talented actors. And even though production has started and set videos and photos start to leak out, they're not done filling out the call sheet just yet as they've invited Amy Landecker to the superhero party.
Sinister director Scott Derrickson is at the helm of Sorcerer Supreme's first MCU adventure, and The Wrap reports that Landecker, who recently appeared in Amazon's acclaimed, Emmy-winning transgender drama Transparent, is set to join Doctor Strange. There aren't any other details available at this time in regards to the character she may play, whether it is a new creation or a familiar face from the comics, or even how large the part is.
Still, even with all of this mystery, Landecker is a fantastic addition to what is already a great stable of actors. To be honest, the cast is more reminiscent of a big weighty drama, the kind of film that premieres at the end of the year and contends for prestigious awards like Oscar, than it does a movie about a guy in a cape casting spells and getting all mystic.
Benedict Cumberbatch plays the lead character, Stephen Strange, a prominent neurosurgeon, who, after a terrible car accident, loses the full use of his hands and thus can no longer operate on brains. Strange then has an encounter with magic and ventures to Nepal where he encounters the Ancient One, played by Tilda Swinton, who teaches about the mystic arts. Along his travels, Strange will come into conflict with the main antagonist, Baron Mordo (Chiwetel Ejiofor), have dealings with Rachel McAdams' as yet unconfirmed character, likely get surgery from Michael Stuhlbarg's Dr. Nicodemus West, and, if he ever officially signs up, Mads Mikkelsen may show up as well.
Depending on whether or not they share the screen at any point, this actually marks something of a reunion for Amy Landecker and Michael Stuhlbarg. The two appeared together in the Coen Brothers' underrated 2009 black comedy A Serious Man.
We don't know much about the specifics of Doctor Strange, but amidst the magic and alternate dimensions that prominently figure into character's story in the comics, it's also going to include encounters with subatomic particles. Those first popped up in the MCU earlier this year in Ant-Man and should provide at least a partial link between magical realm and rest of this particular superhero world.
Doctor Strange is currently filming in Nepal and is scheduled to hit theaters in just under a year on November 4, 2016.
Your Daily Blend of Entertainment News
Your Daily Blend of Entertainment News
Thank you for signing up to CinemaBlend. You will receive a verification email shortly.
There was a problem. Please refresh the page and try again.