Don't Worry: The Amazing Spider-Man 2's Green Goblin Is Still Norman Osborn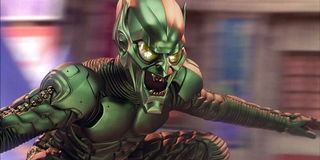 Our intrepid Spider-Man obsessive Sean O'Connell is wandering around San Diego buzzing like a hornet right now, having just interviewed The Amazing Spider-Man 2's director Marc Webb and producer Matt Tolmach. He got a ton of great information, and will be bringing it all to you this afternoon as Sony prepares to kick off their big Hall H panel for the movie, but for now we can tell you that Webb helped us clear up a major rumor that was circling online-- and one that we admit we helped spread.
In a recent interview the British actress Felicity Jones let slip that, while the name of her Amazing Spider-Man 2 character is still a secret, she's "the Goblin's girlfriend." That got us all turned around, assuming that Harry Osborn-- played by Dane DeHaan in the film-- would be taking over the Green Goblin mantle, even though we haven't yet his father Norman, who traditionally becomes the Green Goblin first.
Luckily while talking to Marc Webb today he clarified one very small but very crucial thing for us: Jones's character has a "special relationship" with Norman Osborn, not Harry.
Now that's a little creepy, given that Jones is 29 and Cooper is 62, but it makes a lot more sense for Spider-Man fans. If Jones is playing the Goblin's girlfriend in The Amazing Spider-Man 2, that means that Norman will become the Goblin this time. If they follow standard Spider-Man canon (and the plot line established in Sam Raimi's Spider-Man films), Norman Osborn will be defeated by Spider-Man, leading Harry to take on the Green Goblin mantle and go to war against Peter Parker, his closest friend.
Though we're now expecting the film's Hall H panel to reveal Norman Osborn becoming the Green Goblin, the central villain of The Amazing Spider-Man 2 is still Electro, and if the Green Goblin makes an appearance, it will be a small one. We're still operating on the assumption that Webb is mapping out a gigantic cinematic universe around Spider-Man, and a lot of what he told Sean in the interviews confirms that (without saying it out loud, of course). But Felicity Jones didn't get that Goblin info from nowhere… and now that we know she's teaming up with Norman, that gives us a pretty strong sense that the Green Goblin transformation will happen before The Amazing Spider-Man 2 is over.
We'll have much more from both Webb and Tolmach and the Hall H panel later today-- yes, the Spider-Man speculation has really only started today-- so stay tuned!
Staff Writer at CinemaBlend
Your Daily Blend of Entertainment News
Thank you for signing up to CinemaBlend. You will receive a verification email shortly.
There was a problem. Please refresh the page and try again.