Donnie Darko 2 Stars A Showgirl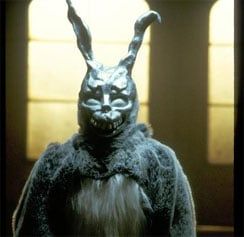 The cast for that Donnie Darko sequel we told you about, you know the one that no one wants, has just been announced. I guess that means it's really happening. Even weirder, it's happening with the cast of Showgirls. Well at least the primary cast of Showgirls: Elizabeth Berkley.
That's right, HR says everyone's favorite Saved by the Bell alum turned stripper will be in Donnie Darko 2, currently being called S. Darko after Donnie's little sister Samantha. Berkley plays a supporting role. Daveigh Chase, who was in the first movie as Samantha, is the star. Also in the picture are Briana Evigan (most recently of Step Up 2), Ed Westwick (Gossip Girl), and Justin Chatwin (star of the upcoming Dragonball movie).
The movie now also has a director. No it isn't Richard Kelly. It's Chris Fisher, a guy who's primary credits till now have been directing episodes of the cancelled vaguely vampire TV show Moonlight and an episode of the soon to return geek-spy show Chuck. Maybe he's the right guy for the job. I don't know. It doesn't matter, this job shouldn't exist. It's just a terrible terrible idea. Donnie Darko is perfect as is. The attempted director's cut only ruined it, and I can't imagine a sequel doing anything but messing it up either.
They'd better have one hell of an idea if this is going to win fans of the original movie over. What we know of the movie's plot so far isn't exactly bowling me over. It's supposed to be about Samantha Darko on some sort of road trip when she starts experiencing the temporal bunny problems which plagued her brother. This seems more like an excuse not to have to bring back any of the original film's cast than an actual plot to me. Hey, let's make a sequel to Donnie Darko! Hm, how can we do it without bringing back anyone who was in the original movie except Daveigh, since they're all much too famous and expensive? Hey I've got it! Road movie!
Shoot me.
Your Daily Blend of Entertainment News