The Dungeons & Dragons Film Took A Huge Step Forward, Get The Details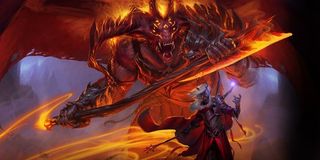 Since they have their hands on the rights to one of the most popular fantasy games in pop culture history, it's no surprise to learn that Warner Bros. is currently developing plans for a Dungeons & Dragons film, which they obviously hope will evolve into a franchise. The studio just took a huge step forward, and their vision for this film has become clearer with the revelation that Rob Letterman will direct. We even have an idea of who they want for a leading man.
Tracking Board confirmed that Goosebumps director Rob Letterman has been hired by Warner Bros. to oversee this hugely anticipated film. Letterman will work from a screenplay by David Leslie Jones, whose most prominent work came when he wrote Wrath Of The Titans. The studio and the director also reportedly have their eye on a Vin Diesel-type for the lead role, and we've even been provided with a tiny synopsis for Dungeons & Dragons, which teases:
But which actor do they hope will play the warrior? Well we have a vague idea, as it's also been teased that Warner Bros. and Rob Letterman are after a Vin Diesel-type to star. It's not yet known if they might pursue the most Vin Diesel type of star out there – Vin Diesel – for the part, but they might have a good chance of landing him as the 48-year-old is a self-confessed fan of Dungeons & Dragons.
There have actually already been three big-screen adaptations of the game thus far, starting with 2000's Dungeons & Dragons, which was followed by 2005's Dungeons & Dragons: Wrath Of The Dragon God, and then finally 2012's Dungeons & Dragons: The Book Of Vile Darkness. All of these were abject failures, with the first film going on to gross just $33 million from a $45 million budget, and the latter two only receiving limited cinematic releases.
But it seems as though Warner Bros., who are working in conjunction with Vertigo Entertainment, Sweetpea Entertainment, and Hasbro to bring the game to life again, are taking this adaptation a little more seriously. The decision to hire Rob Letterman to helm Dungeons & Dragons is a great start, especially since his most recent gig was directing Goosebumps, which grossed $150 million across the world from just a $58 million budget. It also helps that it was a sublime watch, too.
Here's a word of warning, though: Warner Bros.' recent track record of trying to start sci-fi fantasy franchises has been rather poor. Jupiter Ascending and Pan were both flops, while Batman v Superman: Dawn of Justice might have already grossed over $500 million, but it has been critical kryptonite.
Your Daily Blend of Entertainment News