Dustin Hoffman Confirmed For Little Fockers, But Can He Save It?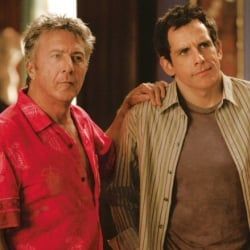 When we reported earlier this month that Dustin Hoffman was getting dragged back in to the Meet the Parents franchise in a last-ditch effort to save Little Fockers, it sounded like he'd just pop into a scene or two and leave it at that. But Deadline is reporting that Hoffman has officially confirmed his paricipation, and not only does it include four brand-new scenes, but they wound up paying him the exact exorbitant amount he was asking the first go around, which caused them not to hire him begin with.
Apparently all these reshoots, which are scheduled for early September, are half brand-new scenes, with other involving reshoots of existing scenes, including a big finale with all the characters. Universal is apparently still spinning that the movie played well with test audiences and, horrifyingly, they claim that the reshoots are "an investment in the future of the franchise." If Dustin Hoffman's return somehow ensures that a fourth Meet the Parents are happening, I'm sorry, I'm burning my Graduate DVD and never looking back.
Little Fockers will reportedly be costing at least $100 million, which is yet another insane overspend for Universal, the studio that also paid $100 million for Land of the Lost. They're probably assuming the movie is a guaranteed hit regardless, and they may well be right-- Meet the Fockers, despite being an abysmal movie, made more than half a billion dollars worldwide. But then again, that was six years ago-- is the saga of Gaylord Focker still something we're willing to embrace? Based on what we've seen so far, I seriously wonder if even Dustin Hoffman can salvage what looks like an awful mess.
Your Daily Blend of Entertainment News
Staff Writer at CinemaBlend