Dwayne Johnson Will Be Brett Ratner's Hercules, Also Confirms Ciudad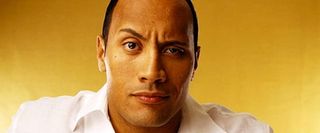 Dwayne "The Rock" Johnson could easily compete for the title of Hollywood's busiest actor, and yet he just keeps adding new projects to his full slate. He has Journey 2: The Mysterious Island in theaters. He'll have a G.I. Joe sequel out before summer's end. And he's lining up two massive projects to ensure he'll stay gainfully employed through 2014.
As was previously rumored, Johnson has committed to Brett Ratner's planned production of Hercules, which Variety claims will begin production in New Zealand in October. The Tower Heist director's version will be adapted from Steve Moore's 2008 graphic novel Hercules: The Thracian War, which will be converted to the big screen by scripter Ryan Condal. MGM will distribute the actioner, likely at some point in 2014.
But wait … there's more! Johnson, according to Deadline, also has signed on to the action thriller Ciudad, which will be directed by Joe and Anthony Russo. Based on a pending graphic novel (that the Russos co-wrote with Ande Parks), Ciudad centers on a black market mercenary (Johnson) who is hired by a drug lord to rescue his kidnapped daughter from one of Brazil's toughest slums.
Where does it end for Johnson? Short answer: It doesn't. In 2013 alone, he has the undercover drama Snitch (which he's currently filming with Susan Sarandon), Empire State for director Dito Montiel, and the sixth Fast and the Furious, which announced a May 13, 2013 release date. Audiences seem to love Johnson in these roles, and I'd much rather see him putting his physical talents to work in stuff like Ciudad than The Tooth Fairy. Rock appears to be rolling down an action path once again, and how that he's gaining momentum, I can't see anything stopping him.
Movie junkie. Infatuated with comic-book films. ReelBlend cohost. Resident dad. Extroverted introvert. Wants to see the Snyder Cut. Managing Director at CinemaBlend.
Your Daily Blend of Entertainment News
Thank you for signing up to CinemaBlend. You will receive a verification email shortly.
There was a problem. Please refresh the page and try again.