The Rock May Play Hercules For Brett Ratner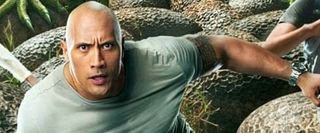 Without the burden of producing the Oscars this weekend, Brett Ratner has the time to start picking out other projects-- presumably ones that are perfectly fine with a director who thinks rehearsal is for fags. In the glory days before Ratner was largely known for sticking his foot in his mouth, the director was looking to jump on board a new Hercules movie over at MGM, actually an adaptation of the comic Hercules: The Thracian Wars. With Wrath of the Titans coming in a few weeks, sword and sandals are apparently still in style, and Ratner may have found pretty much the only actor who's both right for the role and capable of making this into its own franchise.
According to a tweet from Variety's Jeff Sneider, The Rock is in talks to star for Ratner as Hercules, who you might remember is the warrior of Greek myth who is half-hum and half-God. The Rock is pretty much "no duh" casting in terms of playing a buff warrior, and though at 40 this year he's a little older than you might think his starpower more than makes up for that. The real question is how he'll make the time-- he's attached to Michael Bay's Pain and Gain as well as the next Fast and Furious movie, and will be spending time this year promoting G.I. Joe: Retaliation as well.
We'll keep an eye out for more details on this and add them as we get them. In the meantime, let us know what you think about the continued, never-ending career success of the former wrestler who's now a bona fide movie star.
Staff Writer at CinemaBlend
Your Daily Blend of Entertainment News
Thank you for signing up to CinemaBlend. You will receive a verification email shortly.
There was a problem. Please refresh the page and try again.