Dwayne Johnson Wants In On Star Wars, Talks Possible Fast And Furious Spin-Off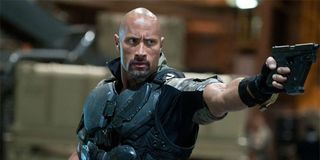 By the end of May, Dwayne Johnson will have starred in four different movies released in 2013. The wrestler-turned-actor has kept incredibly busy over the last couple years, making Snitch, G.I. Joe: Retaliation, Pain & Gain and Fast & Furious 6, and his star is only getting brighter. Packed with charisma and backed by the love of movie-going audiences, Johnson has incredible potential for his career as an actor. And he has big plans for the future.
With the G.I. Joe sequel due out in theaters next weekend, the star sat down with journalists, including myself, for a press day held in Los Angeles, and in addition to discussing his latest film, also talked about what he has in store for us in the coming years, the movies he wants to be a part of, and the projects that just ended up falling apart. Read the full interview below to learn about Johnson's desire to be a part of J.J. Abrams' Star Wars, what we can expect from Brett Ratner's Hercules, the potential future of Fast & Furious 6's Luke Hobbs, and what happened to both Lobo and Shazam.
Isn't this what G.I. Joe should have been all along? You just get Bruce Willis and The Rock to play G.I. Joe!
[laughs] That's what I've been saying all along! The first G.I. Joe, as you guys know, came out and made a lot of money. But we all collectively felt there was a better movie to be made. As we all know, sequels can be tricky. So when you take a crack at them… and not only are you taking a crack at a sequel, but it is also our opportunity to relaunch and reboot and reignite. We're going to do it the right way. We're going to remove the lasers, we're going to remove the slickness of it and bring it back to respecting the mythology of G.I. Joe. Add some new blood, and we're off to the races!
How do you feel about the "franchise Viagra" moniker that you've developed over the last few years?
Could be a lot worse! It's an interesting thing to come into a franchise and reinvigorate things and it seems like it's working. Yeah, we've been kind of fortunate. It's a good thing. It's a good thing because it's a good thing if it fits. In this case it's fit very nicely. If you look at Fast and the Furious or G.I. Joe or even Journey 2: The Mysterious Island, on the family level, it fits nicely too. Both brands fit nicely. If I can come in and help elevate a franchise or add something to it…and not only that but create a character that is interesting to people and people will enjoy seeing, whether it's Fast or Furious or it's something like this, a character that's already established in Roadblock….like I said, it's challenging, but it's also fun. The fun of it is how do we execute it? How do we go in and really reignite something? I love challenges like that.
Who is the toughest character that you've played? If all of your characters had to fight each other which one would prevail?
Oh, hands down, Paul Doyle from Pain & Gain. You haven't seen that, but you'll see. Hands down. He's a scary guy. A scary guy and a real guy, which makes it more scary.
Are there other franchises that you look at and think, "I want to give that a shock to the system?"
Oh easily. Star Wars. And that's not to say that they need it. Obviously they're doing very well. And J.J. [Abrams] is just gonna crush it. I'm so excited. There's a guy, by the way, who's not just a brilliant director, but honors and respects mythology. You've seen that with Star Trek and you're going to see that with Star Wars. I'm very excited about that.
You also have the unique ability to be in family friendly-films and also do more serious stuff. Do you have a preference or do you enjoy that balance?
I like the balance. Balance is important. I started about 12-13 years ago in Hollywood. My goal then was to have a diverse career. And career as in long career. That's what I wanted. It was important for me to do well, to become a good actor. But we also talked about challenges. One of my challenges was, well, I had no acting experience at all. I also came into Hollywood in a very non-traditional way. My parents weren't actors or studio executives. I had two things: I had my love for movies, and character's that I used to love and perform their monologues. As I got a little older, I also had the really, really strong platform of being able to perform in front of live audiences in the WWE. That provided a couple of things. It offered an opportunity to perform in front of a live audience, which has a whole host of challenges. There are 20-30,000 people every night, so it's a big baptism by fire. But it also provided a platform for people to just tune in. "Let me see what this guy is doing…I've heard about this guy 'The Rock'."
Does it give you any concern that Renny Harlin is trying to do another Hercules movie before you?
No. None what so ever. I was born to play Hercules. I have loved and honored the mythology over the years – since I was a kid. When I first broke into Hollywood, Hercules was one of the movies that I, not chased, because I didn't have the power to chase anything, but always had in the back of my mind. Everything happens for a reason, and it's come back around full circle. Hold on, check this out…[fumbles around in his pocket for his phone, take it out and searches through it] So this was me last week with the director and all of the producers, slipping into character and becoming Hercules [shows picture of him in character, which features him with long hair hanging over his face, looking somber, and wearing a tattered shirt]. That will give you the idea of the type of movie we want to make and the definitive version of Hercules that we want. It's going to be darker in tone, based on the awesome graphic novel.
So it's not just a loincloth. It's a costume and hair.
It's full-on. We talked about, for example, the mythology of G.I. Joe, but here's a mythology we have to honor and respect, and in doing so we're bringing in big writers, and we based it off a much darker graphic novel. There's tragedy and there's pain, and in respecting the mythology of Hercules you find that he lives in pain and he lives in tragedy, and lives not to accept his fate or faith, until he finally does and it becomes a powerful moment. So yeah, we're ready.
Your character in Snitch is overwhelmed when he is in gunfire and this one is more comfortable when he is under fire. What is your take on guns in action movies in general?
I think there's a place for them. I don't believe in censorship. I believe everyone is inspired by their own artistic creations. They make what they want to make for a variety of different reasons. Whether you're a writer or an actor or a producer or working on Broadway. I believe that everyone should make what they want to make, and it's up to the audience if they want to see it. Often times in action movies there are guns and tanks and weapons. And there's rounds, and they go off.
You've said that there could be a Luke Hobbs spin-off on the way from Fast and the Furious. How does that work if the movie is about the ensemble?
I don't know. I think that's one way to look at it. But I think, too, if you're looking to expand and be creative I think it could possibly work. We've talked about that, by the way. We've talked about spinning that character off. That's a character that people have really enjoyed seeing. I think it could work. I think though too, let's wait and see how Fast Six does. It looks as though a lot of people are going to like it. I was excited to make it. With Luke Hobbs it feels like there might be one more. There's one more Butch and Sundance journey to go on with Luke and Dom.
What happened to Lobo?
It kind of came and went. It came – I thought it was interesting – and then it kind of went away?
Is that kind of the same with Shazam?
Shazam was more interesting. And really interesting to me. I would have loved that, especially the idea of playing Black Adam. Again, though, studios start to look at other properties and other superhero properties, what makes sense and what doesn't, but I'll be a superhero down the line.
Your Daily Blend of Entertainment News
Assistant Managing Editor
NJ native who calls LA home and lives in a Dreamatorium. A decade-plus CinemaBlend veteran who is endlessly enthusiastic about the career he's dreamt of since seventh grade.
Your Daily Blend of Entertainment News
Thank you for signing up to CinemaBlend. You will receive a verification email shortly.
There was a problem. Please refresh the page and try again.