Dylan Baker Confirmed For Spider-Man 4 Appearance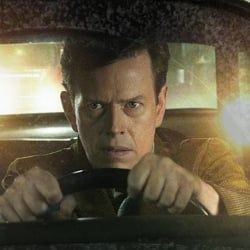 It's been rumored for ages that the main villain in Spider-Man 4, as soon as they get that damn script into shape, will be The Lizard, a.k.a. Dr. Curt Connors, a.k.a. the largely background character who was played by Dylan Baker in the first three films.
While we have no idea if he'll just be a background player yet again, Baker has at least confirmed that he'll be part of Spider-Man 4, as reported by UGO after a New York screening of Trick 'r Treat, where Baker and the film's director Mike Dougherty were present for a Q&A. Given that this is a public audience and anything goes, Baker inevitably got asked the Spidey question, and confirmed that he, indeed, will be taking part.
Dougherty, who I interviewed at Comic Con and has his geek credentials firmly in line, joked about Baker's small roles in the first films, and Baker responded that would probably be the role this time as well. Dougherty later joked that he'd be a "cocktease for another year," clearly referencing the fact that fans have been dying to see Baker turn into The Lizard for three movies now.
Baker, obviously, is keeping quiet on what's actually going on, and I actually believe Raimi when he promises they haven't sorted out the plot details yet. But dudes, get on that. The one thing that everybody wants to see from Spider-Man 4 is a well-crafted screenplay, making up for the crazy disaster that was Spider-Man 3's script. If Baker gets to play the villain as the ultimate fanservice, that's all the better.
Your Daily Blend of Entertainment News
Staff Writer at CinemaBlend