When Dylan O'Brien Is Expected To Return To The Maze Runner 3 Set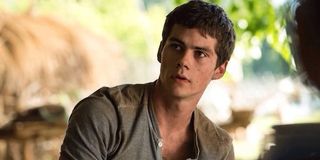 While it may not have overtaken The Hunger Games financially or popularity wise, The Maze Runner did manage to carve out a nice place for itself in the dystopian teen science fiction landscape when it was released in 2014. 2015 followed up with Maze Runner: The Scorch Trials, and the third and final chapter, Maze Runner: The Death Cure, is set to drop in February of 2017. Production suffered a serious set back, though, when star Dylan O'Brien was seriously injured in an on-set accident last month. But according to a new report, the 24-year-old actor is healing well and is scheduled to return to the set soon.
When Dylan O'Brien was hurt in March, the Vancouver B.C.-based production on Maze Runner: The Death Cure was immediately shut down indefinitely. EW recently spoke to co-star Giancarlo Esposito, who said that O'Brien is "healing nicely," and filming is now scheduled to begin again on May 15. Talking about the accident, the Breaking Bad star said:
Dylan O'Brien was hurt when a motorcycle he was riding tipped over and went into a slide while in the process of finishing up a stunt. According to reports, he hit his head on the pavement and was knocked out, and reportedly run over, and the Teen Wolf star later added that he suffered a concussion, as well as broken bones in his face and lacerations.
As serious as the injuries and their impact were, those involved still managed to maintain a sense of humor in the face of adversity. Giancarlo Esposito said he sent Dylan O'Brien a text while he recovered, joking that if he needed time off that bad, he has connections at the studio and could put in a good word on his behalf. O'Brien apparently laughed so hard when he saw it that is almost "broke my face."
The story of Maze Runner: The Death Cure picks up with Thomas (Dylan O'Brien) and the rest of the surviving Gladers. Now outside of the Maze and trying to navigate this new post-apocalyptic environment, they'll have to face off with the nefarious forces of WCKD one more time in a last ditch effort to stop the Flare, a plague that has wiped out most of the human race, and just generally save the day. And don't worry, there will be some dramatic interpersonal struggles to overcome as well, especially as Thomas got a metaphorical kick to the nuts at the end of The Scorch Trials.
We're glad to hear that Dylan O'Brien is recovering from his injuries, and despite the delay in production, Maze Runner: The Death Cure is still slated to hit theaters February 17, 2017.
Your Daily Blend of Entertainment News