Eastern Promises Gets A 2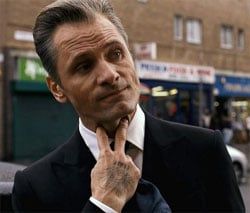 At the end of Eastern Promises, when you found out that Viggo Mortensen's character was actually a sleeper agent working for the British government, did you feel a little gypped because you wanted more? Well, I did. Turns out that David Cronenberg agrees; Eastern Promises is getting the sequel treatment! No doubt the question on the mind of many women is… will there be another nude knife fight scene featuring Mortensen?
MTV reports that Cronenberg is in the midst of talks concerning the sequel and that they are about to send scriptwriter, Steven Knight, to his preferred writing device. Cronenberg tells MTV, ""We are moving forward with it. We all are excited about the idea of doing a sequel." Well, no doubt lovers of the gangster drama will match Cronenberg and Co.'s enthusiasm. Word on the street is that "we" entails Mortensen, scriptwriter Knight, producer Paul Webster and the original film's studio Focus Features.
Cronenberg also adds that "We are going to have a meeting very soon between me, Steve Knight and Paul Webster to discuss what the script would be. I have some very strong ideas about what I would like to see, but I would like to hear what they have to say as well. And then after that, if all goes well, Steve goes away and writes a great script. If we all like it, we make it." Looks like all the pressure is on Knight (Dirty, Pretty Things). The script will definitely follow Mortensen's character, Nikolai, but no word yet on whether Naomi Watts will re-appear in the sequel.
I think gangster movie fans will agree, this is about as good as movie news gets. Since David Cronenberg has never, in his entire career, created a sequel, before today the characters of Eastern Promises were looking like they would spend the rest of their days in 2006. But, not anymore! The best part about this news is that the sequel is in the trusted hands of it's original creators. If you can't trust David Cronenberg, who can you trust?
Your Daily Blend of Entertainment News