Edge Of Tomorrow Probably Forced Jupiter Ascending's Delay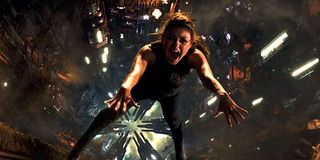 With only weeks before release, Warner Bros. made waves recently and announced that Jupiter Ascending would leave its perch and instead bow on February 5th, 2015. The change was credited to more time being allowed for special effects. But after the so-so opening weekend of Edge Of Tomorrow, the reasons should be more clear, with Warner Bros. looking to save just a bit of face this summer season.
Thompson On Hollywood is one of many to surmise that the WB jettisoned Jupiter Ascending for fear of having an even worse summer than they're already having. Edge Of Tomorrow recently opened to a not-bad $29 million, and an actually-pretty-good $111 million overseas. But those domestic numbers are considerably lower than Tom Cruise's last action film, Oblivion. That one opened at $37 million and ultimately finished at $89 million domestic, with a $286 million worldwide cumulative gross. While Edge is expected to be a bigger hit worldwide, a $300 million-$400 million global gross won't help with a monstrous $178 million budget, before prints and advertising.
Warner Bros. also released Blended this season, and even with a modest $40 million budget, that one has only tallied $38 million in global gross. With Jupiter Ascending carrying a budget of $150 million, that would have been another uphill battle for the marketing department after the WB salvages the wreckage from those two failures. They'll be taking a shot again this summer with smaller films like Jersey Boys, Tammy and Into The Storm, but one could certainly argue there's a disconcerting lack of heat surrounding those films as well. With Jupiter Ascending out of the way for now, the marketing muscle could be spent on these films instead, particularly Tammy, which has a pretty decent July 4th opening slot.
The question one asks is, did WB make this decision to save their summer, or to save Jupiter Ascending? The sci-fi gumbo, directed by the Wachowski siblings, was always going to be a tough sell. There's Channing Tatum with elfin ears, a half-wolf assassin falling in love with a janitor played by Mila Kunis who may be a queen. A tough sell no matter what, and the jumbled trailers and overall ad campaign needs to be rejiggered to convey the adventure in this film with a, let's face it, really dorky title.
After the move, Jupiter Ascending is banished to February, where only four films have ever opened with more than $50 million, a reasonable benchmark for a $150 million-budgeted film. It's chief competition is Mortdecai, an action comedy with Johnny Depp that's sure to bite into the key demographic. There's also Spongebob Squarepants 2, following the $32 million debut of Spongebob Squarepants in 2004, and Seventh Son, another one-time fantasy tentpole that's been on the shelf for years. Has Warner Bros. just isolated the problem, or can they pivot to turn this would-be bomb into a hit?
Your Daily Blend of Entertainment News
Thank you for signing up to CinemaBlend. You will receive a verification email shortly.
There was a problem. Please refresh the page and try again.