Elizabeth Banks Will Keep The Boys In Line In Man On A Ledge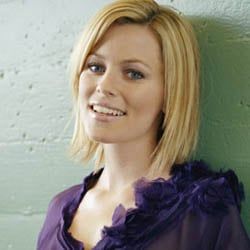 Elizabeth Banks has never taken her career in expected directions, veering from comedy to drama to straight-up horror from one project to the next; in the last year alone she's played Jack Donaghy's girlfriend on 30 Rock, an evil stepmom in The Uninvited, and signed on for the thriller The Next Three Days (coming this fall) and the comedy My Idiot Brother. Now it's time for more drama with a slight thriller edge; Deadline reports she'll play the female lead in Man on a Ledge, which also stars Sam Worthington, Jamie Bell and Anthony Mackie.
In the grand tradition of Vera Farmiga's character in The Departed, she'll play a psychiatrist-- OK, a crisis negotiator-- trying to help a cop she has a romantic relationship with (Worthington). He's taken to a ledge after being framed for a crime he didn't commit, but even as he threatens to take his life, his brother (Bell) is across the street trying to stick up a jewelry store. Mackie plays the ex-partner of Worthington's cop character.
To be honest, it's always less fun when an actress as interesting and creative as Banks gets stuck in a stern-jawed drama where she's trying to convince the men to do the right thing. Then again, in Sam Worthington's short career as a leading man, his female co-stars have almost always gotten the better of him, so maybe Banks can keep the tradition alive. To be directed by Asger Leth, the film starts shooting in New York in November, meaning Banks will be just a short commute to the 30 Rock set so she can continue romancing Alec Baldwin. And no, somehow that's not gross in context of 30 Rock.
Staff Writer at CinemaBlend
Your Daily Blend of Entertainment News
Thank you for signing up to CinemaBlend. You will receive a verification email shortly.
There was a problem. Please refresh the page and try again.