Elizabeth Banks Sued Over Walk Of Shame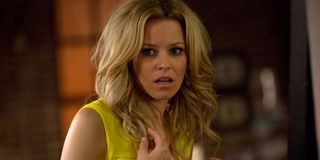 As long-time fans of whip-smart scene-stealer Elizabeth Banks, we were stoked for her leading role in Walk of Shame. Unfortunately, this raunchy vehicle is proving a lemon for the comedienne, failing to impress critics, or theater audiences (though numbers suggest it's doing well on VOD). Now to top it off, she's being sued over it.
THR reports Elizabeth Banks and the producers of Walk Of Shame are being sued by Dan Rosen, a screenwriter who claims the concept for the film was stolen from a script he gave Banks back in 2007. He's filed the case through his production company, ironically called Shame on You Productions.
Rosen's published screenplay credits include the horror comedy The Last Supper, which centers on a bunch of psychotic liberals who turn cannibal on conservatives, and the little-known R-rated comedy Freeloaders. In his suit, Rosen claims he penned a screenplay called Darci's Walk of Shame, and it bears some striking similarities to Walk Of Shame. An excerpt from the law suit reads:
Rosen goes on to claim that he submitted Darci's Walk of Shame to Elizabeth Banks back in 2007 with hopes she'd agree to star in the film. The script was handed off by a mutual acquaintance. Following that, Rosen insists he actually met with Banks and her husband Max Handelman, who is also her producing partner on Pitch Perfect and Pitch Perfect 2. He goes on to claim that they showed an interest in the script, kept it, but never got back to him after that three-hour meeting.
Rosen's lawsuit claims copyright infringement and breach of an implied-of-fact contract. Essentially this means that even though Banks and Handelman never contacted him, their meeting should have suggested Rosen should have been paid if they ever decided to make a movie based on his idea. If he can prove that he got Darci's Walk of Shame to Banks and can further prove they met as he claimed, Rosen has a good base for a case. On the other hand, concepts are typically incredibly tricky to effectively copyright in Hollywood. And working against him is the simple fact that neither Banks nor Handelman are producers on Walk of Shame. Basically, this could well be coincidence.
Rosen is also suing Walk Of Shame writer/director Steven Brill, and its production companies Focus World, Sidney Kimmel Entertainment, FilmDistrict and Lakeshore Entertainment. In a statement, Lakeshort Entertainment declares:
We'll give you more on this case as it develops.
Staff writer at CinemaBlend.
Your Daily Blend of Entertainment News
Thank you for signing up to CinemaBlend. You will receive a verification email shortly.
There was a problem. Please refresh the page and try again.