Elle Fanning May Play Sleeping Beauty Opposite Angelina Jolie In Maleficent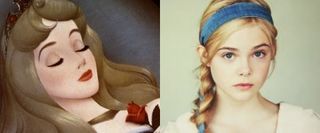 After years of lingering in development, and after losing Tim Burton as a director, the Angelina Jolie-starring movie Maleficent is finally ready to get going, telling the story of the classic Sleeping Beauty fairy tale from the perspective of the villainess. While Jolie will obviously be the center of attention, and will probably get all the good lines, she needs a Sleeping Beauty to square off against. There's no way they could find an actress as famous as Jolie, but they might have actually found one as talented. Twitch reports that Elle Fanning, who wowed a lot of people with the one-two punch of Somewhere and Super 8 last year, is in talks to play Princess Aurora, who is put under a spell by the wicked Maleficent.
Twitch has a track record of breaking scoops that either don't pan out or don't get confirmed for a long time, so it's unclear when we might get any confirmation of this. But back in February Jolie said Maleficent would be her next project, so it wouldn't surprise me if they move fast to cast a Princess Aurora and get the production started. And can you really imagine anyone besides Fanning better suited for the part? Sure, they could cast more of a grown-up-- Fanning turns 14 next month, if you can believe she's that young-- but with Jolie also being a little young for the wicked queen role, it makes sense they'd bring in someone who seems far more youthful. And since Fanning has more than enough acting talent to hold her own against Jolie, why not?
We'll let you know if this news gets confirmed, but for now Fanning's casting-- even theoretical-- is the first thing to get me seriously interested in the project in a while. How about you?
Staff Writer at CinemaBlend
Your Daily Blend of Entertainment News
Thank you for signing up to CinemaBlend. You will receive a verification email shortly.
There was a problem. Please refresh the page and try again.