Elvis's Granddaughter Riley Keough Joins Mad Max: Fury Road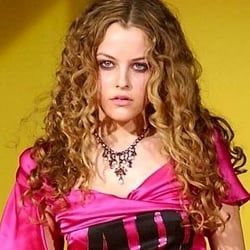 Riley Keough looks pretty much like any other up-and-coming starlet-- blonde, blue-eyed, thousand-yard stare-- but she's got a serious pedigree on her side: she's the daughter of Lisa-Marie Presley, and therefore the granddaughter of Elvis. That seems be the only thing interesting about her so far, though that might all change now that she's set to appear in Mad Max: Fury Road. Because if you don't become more interesting by showing up in a Mad Max movie, you're really doing something wrong.
According to THR Keough will play one of the "Five Wives" who need protection from Mad Max, who will be played by Inception dreamboat Tom Hardy this time around. Zoe Kravitz, Teresa Palmer and Adelaide Clemens will play three of the other wives, which means there's one more hot young thing yet to come. Charlize Theron and Nicholas Hoult are two of the other biggish names in the cast, who will all supposedly start filming early next year.
You're free to be skeptical about that start date, since talk about Fury Road has been happening since 2005, and production has been repeatedly delayed. With nearly a full cast in place, though, we should assume things will start rolling relatively soon-- now with the King's legacy on board to bolster things a bit.
Your Daily Blend of Entertainment News
Staff Writer at CinemaBlend